Indian Dishes and Ingredients
Bollywood Basics: An Indian Food Primer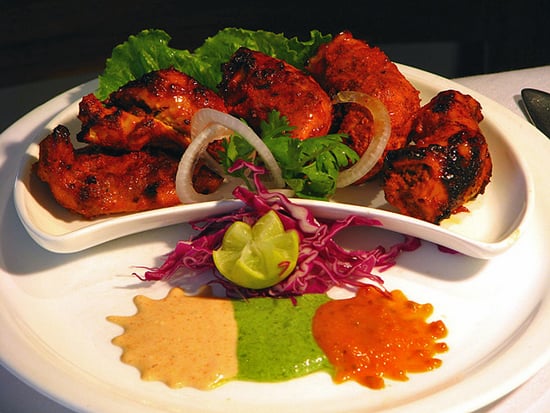 So many people in my life are terrified when I bring up the idea of going out to my favorite Indian spot in the city. Indian flavors are not for the faint of heart, but most people think that Indian food is just about a super-spicy curry; that couldn't be further from the truth. Indian food is bold, flavorful, and indicative of the country's rich and vibrant history.
The regional flavors are as valiant and varied as the different, beautiful layers of culture coexisting in the Indian subcontinent. If you're a little nervous about what to order, or you've never considered enjoying some Indian cuisine, here's a quick primer on some flavors you can probably find at your neighborhood haunt. Continue reading to get to know a few staples of Indian cuisine.
Dishes:
Biryani: slow-cooked veggies, meat, or seafood cooked into a curry in a variety of spices, layered into a large baking dish with basmati rice. Many times you'll see caramelized onions on top as a garnish.
Korma: typically the main ingredient is marinated in yogurt, ginger, and garlic, then cooked in a thick gravy of onions, tomatoes, green chiles, and an Indian spice blend.
Saag: leafy greens that are chopped fine or creamed, combined with cinnamon, cloves, coriander, cumin, and a number of other spices, combined with meat, vegetables, or paneer. Because saag is a mild dish, it's ideal for someone new to Indian cuisine.
Samosas: delicious fried pastry shells stuffed with a savory filling that may include spiced potatoes, onions, peas, coriander, lentils, and some meat. The samosa was brought to India by Muslim traders; they were so simple to make around a campfire and easy to travel with as snacks the next day.
Tandoori: tandoori is another great way to kick off someone's Indian food experience. Tandoori dishes are marinated in an Indian spice mix that may include cumin, coriander, ginger, or garlic, and are then cooked in the tandoor, or clay oven.
Tikka masala: tikka dishes consist of chunks of marinated, grilled meat cooked in thick, tomato-based gravy.
Vindaloo: vindaloo dishes hail from Goa, located in western India. The vindaloo spice mix is definitely fiery, with lots of dry red chiles to bring the heat. Like tikka masala dishes, vindaloos have plenty of gravy for dipping.
Ingredients:
Atta: generally refers to a whole-wheat flour made from wheat grown across India. Flatbreads like roti and naan are created from this star ingredient.
Channa: this is the Hindi word for India's beloved chickpeas; they're the star in many dishes.
Garam masala: a blend of ground spices common in North Indian and other South Asian cuisines. A typical Punjabi blend, for instance, may include black and white peppercorns, cloves, cumin, cinnamon, cardamom, nutmeg, and star anise.
Ghee: this clarified butter is widely used in Indian preparations. Ghee can be made by heating unsalted butter on medium heat for 25 to 30 minutes until it is clear. Then all you've got to do is strain it and enjoy. It can be saved for weeks.
Paneer: refers to the "cottage cheese" of India. There's no true Western equivalent of this delicious curd cheese, which isn't aged and doesn't have melting properties — you've simply got to taste it to believe.
Source: Flickr User Kirti Poddar