Indian Food Trends and Tips With Sachin Chopra
Chef Sachin Chopra on Indian Food's Evolution in America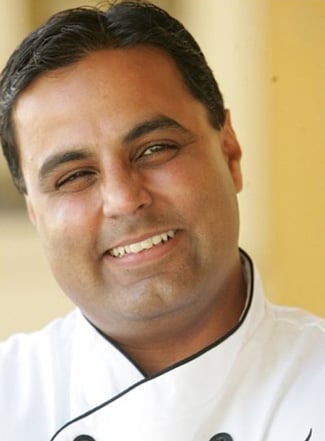 Over the past few years, Indian food, much like Vietnamese and Korean cuisines, has made giant strides in the landscape of American cuisine. No one can speak to this more than chef Sachin Chopra, the creative force in the kitchen at Bay Area restaurants All Spice and Arka (where he's chef-owner and consulting chef, respectively). Chopra, who was recently named one of the four new chefs to watch by Esquire, had garnered accolades for his unique marriage of Indian and West Coast flavors. I spoke to the chef about his creative twists on classic Indian cuisine, the benchmark dish for a truly great Indian restaurant, and what spices you need in your pantry to create restaurant-worthy Indian food.
YumSugar: Where do your menu items (like chilli cheese uthappam and tomato basil biryani, both on the menu at Arka) come from?
Sachin Chopra: Working in various upscale restaurants over the years, both Indian and American, I developed a passion for combining the best elements of each. Arka's menu is a reflection of that passion; it is my interpretation of classic Indian food, presented with Californian sensibilities. 
YS: I've noticed a trend toward the fusion of Indian and Latin ingredients. Does that influence you at all in your menu development? Do you think the Latin-Indian fusion concept has mainstream potential?
SC: We have an abundance of fresh produce here [in California], and it so happens that some of the same ingredients that make Latin cuisines delicious also work well with Indian food. Sure, there could be a market for Latin-Indian fusion, provided the chef respects each cuisine and is masterful in combining them.
YS: What are some other trends you're seeing in Indian cuisine today?
To find out his answer, keep reading.
SC: Regional foods are beginning to show up on Indian menus that one never used to see. It used to be true that Northern Indian cuisine was the only thing available, so much so that it seemed like restaurant menus were interchangeable. Now there is much more variety. For example, there are now several places to get dosa in the Bay Area, a specialty of the south. Portuguese-influenced food from Goa can be found at restaurants in San Francisco. It's exciting to see Indian chefs taking these kinds of risks.
Photo: Hardy Wilson
YS: Indian food's taken America by storm, but it can be hard to know where to go for truly great Indian food. When you're eating Indian, are there any particular dishes that you view as a good judge of character or a good benchmark for how great the restaurant's Indian food is?
SC: Simple preparations such as black dal can illustrate a restaurant's character. This is the kind of dish that can be rich, delicious, and deeply satisfying when made with quality ingredients and much care, or it can be bland and mediocre.
YS: People associate Indian cooking with extreme spiciness. Is that a fallacy?
SC: Absolutely. Indian food is characterized by the complex layering of spices, many of which do not contribute any heat to a dish. Spiciness is a matter of personal taste and tradition and can almost always be adjusted to suit a diner's palate.
YS: What are five of your favorite Indian dishes, and your favorite beverage pairings to go with them?
SC: Black dal, butter chicken, tandoori kebabs, dhokla, and panipuri. Generally speaking, Indian food pairs well with sparkling wine, lighter style beers such as lagers, white wine, and lighter reds like Pinot Noir.
YS: What are some easy dishes you'd recommend for home cooks making Indian for the first time?
SC: Again, dal is a good place to start. There are many kinds of lentils available, and I've got a simple recipe using common yellow lentils.
YS: What are a few spices that you need in your pantry in order to cook great Indian food?
SC: Ginger, garlic, and onions are absolutely essential. I would recommend that one stock cumin, coriander, mustard seed, green cardamom and red chili as well.
Experiment further with Indian cuisine at home by making chef Sachin's simple recipe for Pakistani dal. What's your baseline for great Indian food?