Indian Spiced Burgers
Fast and Easy Dinner: Spiced Burgers With Cucumber Yogurt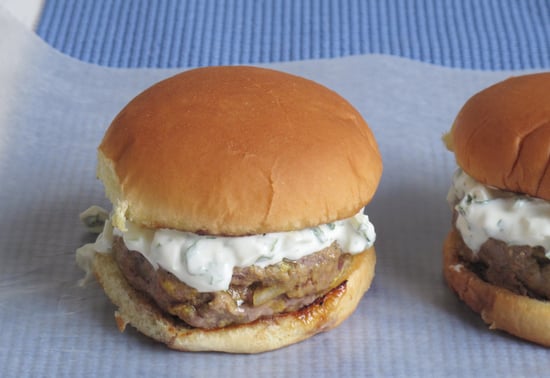 From salmon burgers to pork chipotle muenster burgers, I've seen and tried just about everything in between a circular bun. So when I flipped open the latest Food Network Magazine to find a recipe for Indian-inspired spiced burgers, I couldn't resist giving them a try.
The South Asian spice that makes this burger so distinctive is curry powder, and it's incorporated directly into the patty before cooking. It lends a warmth to the patty, which is actually fairly lean (it's made of 90 percent lean ground beef).
What keeps the burger moist (and what makes this burger so great) is the complementary condiment: a cucumber raita of sorts, made here with Greek yogurt and cilantro in lieu of chopped mint and the thinner yogurt variety. Keep reading for more, including the spiced burger recipe.
The result is a well-composed meal that's balanced with heft from the meat, spice from the curry, and crunch and creaminess from the sauce — all tied together nicely between two pieces of round bread.
Spiced Burgers With Cucumber Yogurt
Ingredients
1/2 seedless cucumber, peeled and finely chopped
1/2 cup low-fat plain Greek yogurt
1 tablespoon chopped fresh cilantro
Kosher salt and freshly ground pepper
1 1/4 pounds 90 percent lean ground beef
1/4 cup finely chopped red onion
1 clove garlic, finely grated
1 1/2 teaspoons red or yellow curry powder
1 tablespoon extra-virgin olive oil
4 hamburger buns, split, toasted
Directions
Mix the cucumber, yogurt, cilantro, 1/2 teaspoon salt, and pepper to taste in a bowl. Set aside while you make the burgers.
Combine the beef, onion, garlic, curry powder, 1/2 teaspoon salt and 1/8 teaspoon pepper in a bowl and mix with your hands until just combined. Form into four 4-inch-wide patties, about 1/2 inch thick.
Heat the olive oil in a large cast-iron skillet over medium-high heat. Add the burger patties and cook, turning once, until cooked through, 7 to 8 minutes for medium.
Place the burgers on the buns. Stir the cucumber-yogurt mixture and spoon on top. Serve immediately.
Serves 4.
Per serving: Calories 428; Fat 23 g (Saturated 8 g); Cholesterol 80 mg; Sodium 765 mg; Carbohydrate 25 g; Fiber 2 g; Protein 30 g
Information
Category

Beef, Main Dishes

Cuisine

North American