Indulge One Last Time With Honey Sticky Buns
The holidays are a time for serious indulgence, and I like to end my indulgence on a sweet note before I worry about all those pesky New Year's resolutions. If you're hosting a happy New Year brunch or just want to have a few friends over for breakfast, bake up a batch of these honey-drizzled sticky buns. Made with cool-rise dough filled with brown sugar, cinnamon, raisins, and pecans, these sweet treats will decadently conclude your holiday celebrations and start 2009 on a high note.
My mom whipped up the recipe, which comes from a family friend, as a Christmas morning treat, so if you can't stand to eat another bite this holiday season, just bookmark it for next year. (It would make a great edible gift.) To get the instructions,
.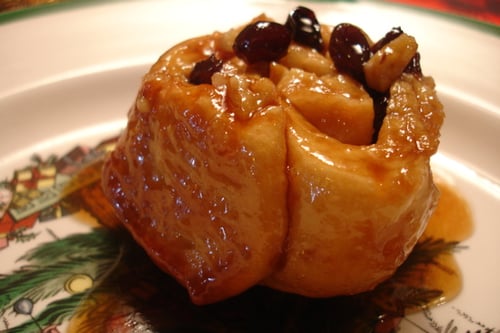 Honey Sticky Buns With Sweet Cool-Rise Dough
From Bonnie Smith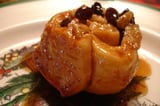 Ingredients
For buns
2 packages yeast
2/3 cup warm water
1 cup warm milk
1/2 cup sugar
1 1/2 teaspoon salt
1/2 cup butter, melted
2 eggs
6 cups flour
For Filling
1 cup brown sugar
2/3 cup raisins
2/3 cup chopped pecans
2 teaspoons cinnamon
For topping
1 cup honey
1/2 cup butter, melted
Directions
Preheat oven to 350 degrees Fahrenheit.
Hold a bowl under running hot water until it is warm. In this warm bowl, dissolve yeast in warm water.
Combine warm yeast mixture with 1 cup warm milk, 1/2 cup sugar, 1 1/2 teaspoon salt, 1/4 cup butter, 2 eggs, and 3 cups flour. Beat at medium speed for two minutes.
On a floured surface, combine dough mixture with remaining 3 cups of flour and knead to incorporate for 8 minutes.
Cover with plastic wrap or a towel and let dough rest for 20 minutes.
Roll the dough into a 32-inch-by-8-inch rectangle, 1/4 of an inch thick. Brush with 1/4 cup melted butter.
In a bowl, combine 1 cup brown sugar, 2/3 cup raisins, 2/3 cup pecans, and 2 teaspoons cinnamon.
Butter two 8-inch-by-8-inch pans, then sprinkle 1/4 of the raisin/pecan mixture on the bottom of the pans, dividing the 1/4 cup evenly between the pans.
Sprinkle the remaining raisin/pecan mixture onto the buttered dough. Roll up the dough and slice into 1-inch pieces.
Leaving enough room in the pan for rising, arrange the rolls side-by-side in the pans, spirals facing up. Wrap in plastic wrap, and place in fridge or freezer for 15 to 30 minutes.
Bake for 10 minutes.
In a bowl, combine 1 cup of honey and 1/2 cup melted butter.
Remove sticky buns from oven and cover with honey and butter mixture. Return to oven for another 10 to 15 minutes or until the buns are golden brown and sound hollow when thumped.
Cool in pan, invert, and serve.
Makes about 18 buns.
Information
Category

Breads, Breakfast/Brunch

Cuisine

North American