Ingredients to Boost Salad Dressings
10 Ingredients to Liven Up Your Salad Dressings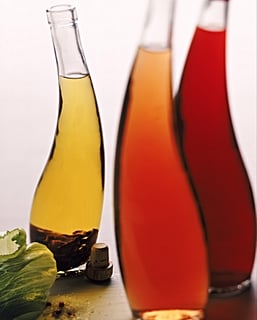 The sky is the limit when it comes to making homemade salad dressings, yet most people still toss their greens in something store-bought or a simple mix of olive oil and balsamic. Adding a few simple ingredients can totally transform the flavor of your salads, many of which are kitchen staples.
Fresh or dried herbs: Quickly chop herbs like parsley, mint, thyme, dill, tarragon, cilantro, basil, or chives, and whisk them into your dressing at the last minute. Dried herbs have more concentrated flavor, so use a third of the amount you would for fresh herbs.
Flavored oils: Thee are tons of specialty oils available like walnut, pistachio, pumpkin, peanut, sesame, even smoked olive oil. Even blending just a tablespoon of a flavored oil with a neutral tasting oil like canola will add roasted, nutty accents to your dressing.
See eight more ways to liven up your salad dressings.
Unusual vinegars: Rice and umeboshi vinegars taste great on Asian style salads. Champagne and apple cider vinegars complement salads with fruit like strawberries, raspberries, apples, and pears.
Citrus zest and juice: Don't throw away the peels of your citrus. Use a microplane to zest your oranges, lemons, and limes; it will give dressings a tangy, fresh uplift.
Mustard: Dijon, honey, and coarse ground mustard can help emulsify vinegar and oils. Simply whisk a small dollop of mustard with vinegar then while continuously whisking, slowly dribble the oil into the bowl. Alternatively, the same result can be achieved by using a blender.
Miso: Especially for Asian salad dressings, miso thickens dressings and gives them a salty, umami flavor.
Pungent Root Vegetables: A little goes a long way when it comes to adding ginger, garlic, or shallots to a salad dressing. Even adding one clove of garlic or a teaspoon of fresh minced ginger root can give dressings a mighty kick and flavor boost.
Sweeteners: You can always give dressings a little sweetness by adding honey or maple syrup. Unlike neutral-tasting white sugar, these sweeteners do have distinct flavors that shine in salads.
Yogurt: For thickness and sour tanginess, add a few teaspoons of plain yogurt to salad dressings, especially dressings with lemon juice and fresh herbs.
Salt: Finish every dressing by salting to taste. Every restaurant salts their salad dressings, and salt might be the most important ingredient to flavors of your dressings to their fullest potential.
What do you add to spruce up homemade salad dressings?