Interview With Big House Wines Maker Georgetta Dane
Big House Winemaker Georgetta Dane Talks About Her Lineup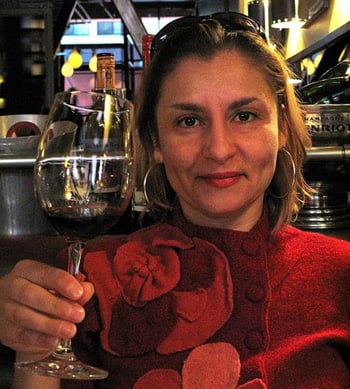 The events at SF Chefs 2010 have kept us really busy, but when I had the chance to talk shop with winemaker Georgetta Dane, I simply couldn't turn it down. That's because this fearless female is the artisan behind Big House Wines, a wine label that I've long equated with quality and value.
Over lunch and wine, she shared her incredible life story — along with some thoughts on the ever-changing wine industry. Hear what she has to say when you read on.
YumSugar: What's your winemaking philosophy?
Georgetta Dane: When I started, we had 42 different varietals to work with. I decided they were like essential oils, and I was making a perfume. So now I start with a base, and add in middle notes and top notes.
YS: How did you get into winemaking?
GD: My husband and I are from Romania, and in 1998, he applied for a visa to go to the United States. He got word that we won the visa lottery. We showed up in Monterey; the only person we knew living in the US also happened to live there. I was living in the mountains in Romania, and didn't know it was so gorgeous, heaven on earth. And it just happened that Kendall-Jackson was building a brand-new winery and hiring a full crew: cellar, lab, winemakers, everything. My husband got a job as a cellar rep, and I worked in the lab as a technician. We learned English, and my husband eventually became their oenologist. Within one year, I moved to Golden State Vineyards, where I became a winemaker. It was a twist of fate.
YS: You make great wines, but they're very affordable. How's this possible?
GD: I don't think I'm allowed to say! We have our own vineyards. We also have long-term contracts with growers so that we can always get grapes at the same price. We go shopping at harvest; you can get great grapes at a low price. And we're good with our expenses.
YS: You've worked with many grape varietals that Americans have never heard of. What do you think is going to be the next big wine in the United States?
GD: It's going to be blends, not one varietal. But I see Albariño, it's very fashionable. Verdelho is breaking through. People try to use it instead of Pinot Grigio; it's another way to enjoy the same flavors. I don't know what's going to come [in red wines], but I'd love to see Charbono, Tannat, and Teraldego.
YS: What have you learned over the years?
GD: Nature always challenges you with something. This year is so foggy. Some growers are scared there are some patches with mildew already. You never know how you are going to be challenged; that's what makes it fun. I'd be bored to death if it were a recipe that I did the same every year.
YS: What advice do you have for the novice wine drinker?
GD: Your palate for wine needs to be trained. People usually start with whites, rosés, sweeter wines. It takes time; don't be ashamed to try new things.