Interview With Cat Cora
Cat Cora Talks Cookbooks, Motherhood, and Iron Chef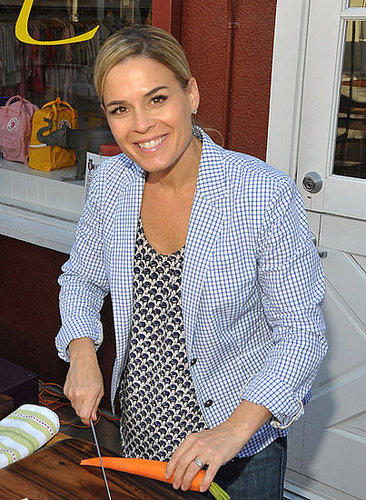 Last week, before heading to Aspen for the Food & Wine Classic I spoke to chef Cat Cora, who is currently on tour promoting her third cookbook, Classics With a Twist. Although she is a restaurant owner, chef, cookbook author, and television star, Cora is also the busy mother of four boys. In fact, the petite chef was nine months pregnant when she shot the cover photo of the book! To find out what Cora has to say about competing on Iron Chef America and see her tips for cooking with children, read more.
On her new cookbook: Classics With a Twist features everybody's favorite international foods, but in healthier, lighter, and quicker versions.
On her participation in Chefs Move to Schools: I was asked by the first lady, so I went and adopted a school — my son's school in Santa Barbara. We are bringing a healthier lunch program to schools. The event was amazing. To have 800 chefs all gathered at the White House in promoting this initiative was fantastic. I couldn't help but think, "we've started a movement."
On balancing her career with motherhood: I am lucky to have a great partner who I really get along with — we are truly a team — and we are fortunate enough to afford a nanny. It's hard because the more balanced you feel, the more you want to do. I've created a lifestyle for myself that is active and involves exercise and eating in moderation, which really helps.
On cooking with kids: You have to make them a part of the process. Get your kids in the kitchen. Take them to the grocery store. Teach them the difference between a zucchini and a cucumber. Show them that food doesn't just come from the market, but from a garden. Plant a garden — involve them.
On her upcoming projects: I'm hosting a cool cruise with Aaron Sanchez; we'll be cooking on it. There will be mini battles. It's a vacation for everyone. I've got a new show on Oprah's channel and we start filming the 10th season of Iron Chef America next month.
On Iron Chef: Although they normally don't show it, we do always discuss what we are going to make after they announce the secret ingredient. I think they don't show it because it's just us being chatty. There's a lot of, "you grab the garlic, I'll get the cilantro," going on and it's not too exciting. I don't worry about the secret ingredient. I decide on a certain type of cuisine I'm going to cook beforehand and stick to it. They give us five ingredients and tell us it is going to be one of those, but when you are shooting 10 episodes, that's 50 ingredients and it's too hard to remember what I plan to do with each one. That's why I focus on the cuisine type. My favorite battle was honey and my least favorite was the whole hog one.