Interview With Fabio Viviani, Part I
Fabio Viviani Touches On Success and Setbacks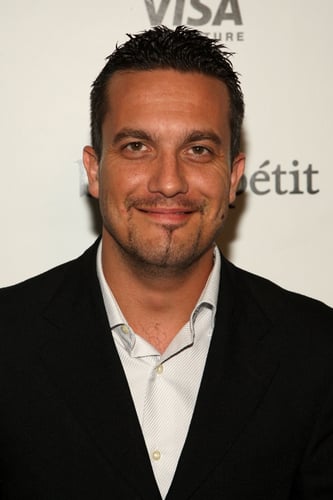 Even though he was voted one of your favorite Top Cheftestants, it's been a while since we've heard from Fabio Viviani, season five's ebullient, passionate Italian stallion who won over fans with his entertaining one-liners. The fan favorite and restaurant owner, who's been busy with countless endorsements and at least one book and TV show, took the time to chat on the phone (he admitted he was on his way to check out the new Ferrari California!) and shared some of the year's ups and downs. His thoughts, when you read more.
YumSugar: How has life changed since Top Chef?
Fabio Viviani: I got over two million emails in the two months after it ended. My server was frozen for a week because we weren't expecting that. I still receive around 1,000 messages every day. I was not expecting that; I'm grateful.
YS: You left your old restaurant to open a new one. Why?
FV: I moved out from the restaurant in Moorpark [Café Firenze]. We had a big issue with the owner; he did something that was not quite right. We are part owners of the restaurant, but he locked us out of it. We are still fighting him. We [my business partner Jacopo Falleni and I] couldn't deal with it, so we opened our own location, Firenze Osteria. We have deals in place in Chicago and Miami; we are trying to do some more locations. We want to be in suburbs, not downtown — I need loyal people, community. We are planning to go back to Moorpark [to Café Firenze]. If we can't, we will just have to buy a restaurant next door.
YS: You've got a lot going on. How do you find time to focus on your food?
FV: In my restaurant, I teach Italian passion about food. I don't need to sit in the kitchen all day. I'd rather teach and pass through my knowledge about good, simple food to people in my kitchen. I don't want to win a James Beard Award. I'm not planning to be the new Ferran Adrià of higher cuisine. All I do is make simple Italian food for a good price. I cook for people, not for food critics or magazines. I'm not going to reinvent Italian traditional cuisine. It'd be like saying there's a better way to make babies.
YS: Since you don't cook for food critics, did it matter that the LA Times awarded your new restaurant zero stars?
FV: I don't give a sh*t. I was looking forward to her [S. Irene Virbila's] review; she can be tough, but sometimes she's got her point. We tried to sit down and see her point, but there was not much to see. She's pointed her fingers at things that I do over and over for the past 20 years . . . Would it make me happy to get three stars from her? Absolutely. But I don't buy wine from her husband, and I don't hang out with my ex-business partner as she does. I couldn't get a better review from her. My grandpa used to tell me, 'Never piss off somebody that buys ink by the barrel.' I've done nothing to her. She has time to do these kindergarten things, so be it. Everybody on my staff was in a bad mood for a week, and I told them: Guys, that is just a single person.
YS: How did the bad review affect business at your restaurant?
FV: The bad review at the LA Times was one of the greatest things to happen to me. I received over 2,500 emails from the community, saying how much they love the restaurant. Actually, we had a busier month, so I hope she comes back and she writes another bad review. My restaurant is busy every single day. Last year, when everyone was closing down and hurting, I did almost 60 percent more business, just in my restaurant. I made a business out of my passion.
YS: What's the key to your success?
FV: I can't fail. I left Italy because there was nothing left to do. The economy is bad; my mom and dad are not working. If something is wrong here, I cannot crash on their house. I'm going through a divorce right now. Unfortunately, I did love my wife very much, but we realized we were growing in separate directions. Nothing to do with the show or anything, but [I had a lot going on], and she figured she couldn't deal with it. So I don't have anybody in this country; I'm a single man in my own league. I cannot be average, and I won't be.