Interview With Next Iron Chef's Alton Brown
Alton Brown Plays a Bigger Role in The Next Iron Chef Than You Might Think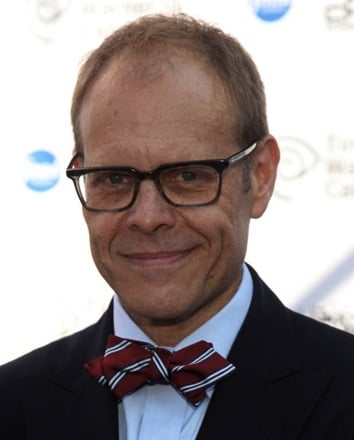 Since day one, Alton Brown's been host of the competition The Next Iron Chef, and this star-studded season, which premieres tomorrow night at 9 p.m., the Food Network favorite will be back and bigger than ever.
Earlier this month, I ran into Alton at the New York City Wine & Food Festival, where he talked about what makes The Next Iron Chef: Super Chefs different from previous seasons, and why he's not just any old TV host.
More on the show — including his opinion of the final outcome! — when you read ahead.
YumSugar: What made this season of The Next Iron Chef different from the other seasons?
Alton Brown: The structure of the competition. In every episode, there's a chairman's challenge where everybody competes, then the judges judge, then whoever the last two on the bottom have to go head-to-head in a secret ingredient challenge. Now you have one-on-one competition in every episode, and those people are fighting to remain in the competition, so the eliminations are far more stressful, but at the same time, I think it's more fair because you've got a chance to save yourself. It's very interesting, when you look at the overall arc of the show, who really did end up saving themselves and changing the nature of the competition.
YS: What about the talent?
AB: Not that we had slouches before, but this is as good as it gets. I remember the day I saw the list, and I said: Are you kidding? What did you do to get these people? These are people who already have shows, massive careers, restaurants; none of these people need to prove anything. Usually in culinary competition shows, it's people who are getting a shot at something better. These people already have better! So yeah, they'd love to be an Iron Chef, but the downside's a heck of a lot steeper than the upside.
YS: Was there a lot of ego involved?
AB: Yeah, they've got big egos, all of them. But I don't see them get in the way. Everybody's behavior is really professional, which I appreciate as both a participant and a viewer.
YS: What would surprise someone about your perspective on the show?
AB: The shocking thing that I take away from every one of these, and more this time than ever before, is for me, it's a lot like going to culinary school. I see new things, I learn new processes, watching great chefs work under pressure and time — and seeing the decisions they make, the techniques they decide to use, it's pretty remarkable for me. I don't go home from shooting Iron Chef America cooking differently, but I come home from The Next Iron Chef cooking differently. Just about [every one], but this one especially. When you've got [just] two great chefs cooking with one ingredient to try to beat that other person, watching that strategy and the cooking processes, I learned a lot from that.
YS: What was the most emotional part of the show for you?
AB: I would definitely say that it's watching judges, being involved in the conversations as they make decisions about who's going to win any given challenge and of course in the end the final challenge, and then also deciding who's not going to stay. I don't stay with the chefs once they leave that room, but I am with the judges, and that's really emotional.
YS: Do you have any input with the judges?
AB: My duty with the judges is to lead the conversations, to try to help to shape what their decisions are going to be, to remind them of things they've said. If a judge says, "This is a bad beurre blanc," I can say, "No — wait a second. You can say you didn't like that beurre blanc, but technically, this is a proficient beurre blanc." I operate as a regulator and a mediator in the process: I don't try to sway them, but I do try to help them come to a decision that is what they really want to do. I'm very big on protecting them from any outside influences. Every decision they make on this show, there's no producing of it. I won't let the producers near them when they're judging. I protect them, because my personal goal is to make sure that whatever happens during this competition is honest, fair, and what the judges really decide.
YS: Viewers don't know much about that role you play.
AB: No. Because we don't talk about it. It's only in conversations like this that that really comes out.
YS: How tough was it to debate over the final challenge?
AB: The very final challenge is different because we bring in two different Iron Chefs who have never been part of the competition. This time, it was Iron Chef Morimoto and Iron Chef Flay. They're added to the judges' mix, and their votes count so that changes the dynamics. But I still think that we were only in deliberation for about half an hour.
YS: What is your opinion of the outcome?
AB: The person who won won.The person who won that competition won that competition. How that person will fare as an Iron Chef, I've got no idea. That person has already competed three times in top-secret battles with no audience members, and I'm not going to give anything away.