Interview With Next Iron Chef's Geoffrey Zakarian
Geoffrey Zakarian on Winning The Next Iron Chef: Super Chefs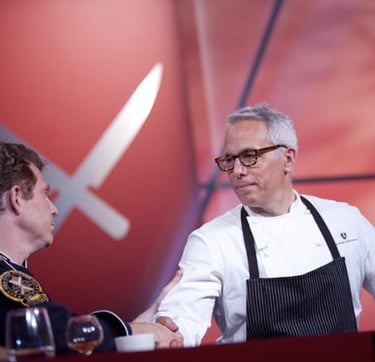 Those of you who've tuned into the Food Network at all in recent days might have heard that the last season of The Next Iron Chef: Super Chefs has just wrapped, and a new champion has emerged victorious out of the star-studded (and highly competitive) lineup.
That would be Geoffrey Zakarian, guest judge of Food Network's Chopped and chef and owner of The National and The Lambs Club in New York City and Tudor House in Miami.
I had a chance to catch up with the chef over the phone, where he revealed his thoughts on why he won, how he hopes to set himself apart from the others on Iron Chef America, and what he always makes for the holidays.
YumSugar: You had a very serious expression on your face when the final outcome was revealed. What was your first thought when they announced you as the winner?
Geoffrey Zakarian: Well, they actually didn't call my name, which was sort of confusing, because whenever anyone got kicked off, they would actually say, "You will not be the next Iron Chef." But I was stunned, shocked, and relieved; there was a real sense of accomplishment.
Zakarian on his toughest Next Iron Chef moments, and his upcoming Kitchen Stadium challenges, after the jump.
YS: You're a veteran judge for that other show, Chopped. Was this competition at all reminiscent of that?
GZ: Bits and parts of it are. One of the challenges we had was in the theatre, and it was reminiscent of a Chopped challenge. But actually, it's so different, because the [The Next Iron Chef] stakes are so much higher, and the Chopped kitchen is a beautiful kitchen, I think it's very close and there are no outdoor elements, there's no interruption, no crazy stuff thrown at you, no physicality to it — you just have to cook. On NIC, you're completely exhausted and you're running around like a lunatic, and there are 10 people.
YS: How was the camaraderie on the show?
GZ: It was really terrific. You notice there's a lot of polite banter; calling someone "fancypants" or "princess" is about as rough as it got. We know each other, first of all, and you bond. You're with each other for three months; it's very hard not to. I didn't know Elizabeth or Spike; I'd heard about them, but those were the only two I did not know. I'm close to a lot of people, but I became closer to Anne Burrell, and Marcus [Samuelsson] and chef [Michael] Chiarello and Beau Macmillan.
YS: Who did you see as your biggest competitor and why?
GZ: Everybody asks me that. It's so funny. I honestly thought every one of those people on the show could beat anyone at any time anywhere. You just have to have a slightly off day or moment or two or you missed a touch of acid. It has nothing to do with credentials. Anyone could've chopped anyone at any time. I had to look at myself as the one who could lose this the most.
YS: Before the show ended, how far did you think you were going to get?
GZ: I actually don't think that linear. My attitude was, the first one is like the last one: kill it. If it doesn't work, it's like golf — you go to the next hole. At the end of the day, if you got a bad hole, it's OK, but you've gotta forget about it. That happened, actually, three times to me. And the thing I was most bummed about was I won the challenge in Montauk, and I said, "What's my advantage?" and they said, "You don't have an advantage!" I thought, "That's not fair." It was simply one day at a time, and you have to put everything into that exact battle, and you have to forget about the future or the past.
YS: This time around, the structure of The Next Iron Chef was totally different, with the chairman's challenge and the head-to-head challenges. If this season had followed the traditional Next Iron Chef format, do you think the whole arc of the show would've been different?
GZ: I don't know the traditional format, but I think that it was a great methodology. But yeah, maybe I wouldn't have made it past the ballpark.
YS: How did The Next Iron Chef differ from your perception of what you thought it'd be like going into the competition?
GZ: I spoke to a couple of people before the show, and they all told me how physical it was. My perception was that it was a three-month hell, with some nice spots thrown in there.
YS: What did you see as your biggest challenge in beating chef Faulkner?
GZ: She has nothing to lose, and those are the scariest people. This girl is talented, she's a pastry chef, she's a baker — I mean, what else can you be? That's very formidable for anybody. I cannot bake; I'm not a pastry chef; so I can't fight that. I had to make a holiday meal. I put together what I thought was a real meal, which, at the end, would make sense. Even Bobby Flay said that Faulkner had more range than Zakarian on certain techniques, and he was absolutely right. But the food told a cohesive story. It was a cohesive meal, and I think what I did there helped me win. I had to create a really simple, fanciful, modern luxury Christmas [meal]. I did not want to do a lot of bells and whistles at that point.
YS: In your opinion, what was the toughest challenge of the season?
GZ: Montauk. Getting off a boat, running down a dock, running into cars, fighting Hamptons traffic, going to six stores, having $500 to spend in the Hamptons. It was ridiculous because The Hamptons is so expensive. I was like, "I'll take half a tomato," you know? I think a small bottle of vinegar was $15. And then, two hours outside. I always add 30 percent to the difficulty factor, time-wise, when you're outside. You've got to grill. But if you don't want to grill something, you've got to put a pan on it. It's a tremendously inefficient way of cooking; all the heat flies out into the atmosphere. And it's windy; Montauk is known for wind. So when you'd turn something, my hand would turn black with heat. It takes longer, it's harder, and you're outside in all the elements. Outside, everything tastes differently. You know when you go to a barbecue; it's easy for everything to taste bland. It takes a lot to really amp up the flavor. And I forgot to mention it was for 25 people. And did I mention we don't have any help?
YS: Now that you're the latest addition to the lineup of Iron Chef greats, what do you hope to bring to the title that sets you apart from the others?
GZ: Other than age and wisdom?! This is the best job in the world, and I'm looking forward to having fun. I'm looking to get better, work harder, and all that.
YS: What do you think of your new nickname, "Darth Zakarian"?
GZ: I rather like it. Who would've thought, you know? Darth Zakarian — I don't know what I had to do for that.
YS: What are you doing and making for the holidays?
GZ: I'm a very traditional person at the holidays. I never, never have a holiday without something seafood — scampi or shrimp cocktail that I make. I like really old-fashioned Christmas food. I'm going to spend it with my family up on Niagara Falls, in the Lewistown, NY, area. We're cooking homemade pizza with the kids.
YS: What are you sick of seeing in 2011, and what will be huge in 2012?
GZ: I wish that restaurateurs would choose simpler and smaller glassware. The tables on restaurants these days are way too crowded, and mostly because the plates are too odd looking and big, and the wine glasses are so gigantic that it takes up the whole surface area and you can't move. I prefer smaller glassware.
What did you think of Zakarian taking the title? Will you tune in to watch his first Kitchen Stadium challenge on Christmas Day?
Photos courtesy Food Network