Interview With Next Iron Chef Winner Marc Forgione
Meet Food Network's Next Iron Chef, Marc Forgione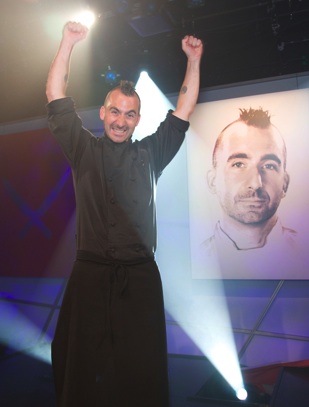 If you've been tuning into the suspense that's The Next Iron Chef, then you might've heard there's a new toque ready to ward off challengers at Kitchen Stadium: New York chef Marc Forgione. On Sunday's finale, Forgione duked it out with Italian maestro Marco Canora in Battle: Honor, a challenge to create an Iron Chef-worthy Thanksgiving meal in 60 minutes. Forgione walked away with the title after executing a five-course, turkey-free meal that was modeled after the provisions eaten at the Pilgrims' very first Thanksgiving.
We caught up with the newly crowned Iron Chef the morning after his win, where he spilled the beans about everything from insights to hangups about the show. His thoughts on unfair eliminations, Kitchen Stadium, and more, after the break.
YumSugar: Congrats! What'd you do when you found out you'd won?
Marc Forgione: First I hugged my parents, then I stood up on the chair and gave a double muscle flex to the crowd of people. I got two new tattoos after the final that say "1621" on my biceps. That's the year of the first Thanksgiving, which is pretty much why I won.
YS: How did you know all those details about what the first Thanksgiving was like?
MF: My family was always very interested and always respected the Native American culture. When I was a kid, my dad used to take me to pow-wows. Believe it or not, I first heard that story at the Native American Smithsonian in Washington DC. When I found out it was Battle Thanksgiving, the first thing I thought of was the word for that battle was also "honor" — so I wanted to make sure that I honored the Native Americans that helped the Pilgrims survive through those first years.
YS: Had you seen Iron Chef before? What about Kitchen Stadium surprised you?
MF: Yeah, I grew up watching Iron Chef Japan. I thought it was going to be bigger than it was; it just looks like a giant stadium when you're watching it on TV. And you'd be so shocked at how fast 60 minutes goes by.
YS: But you seemed so cool and collected.
MF: I was acting. It was very difficult. Trust me.
YS: You aside, who would you have rooted for? Were there hard feelings?
MF: Of the people I went against? Marco. I was shocked at the outcome. Marco is an amazing chef. Everything he made that I tasted was perfectly seasoned, technique was right there. He had it all. And all of them, not just Marco, they're like my brothers and sisters . . . the crew that went to Vegas, we had a lot of good times together.
YS: You said the show made you a better chef. How so?
MF: It made you tap into a creative side that you don't necessarily have to tap into unless you're pushed to. Ever since opening that part of my brain, it hasn't closed. If you can make food like that in 50 minutes, imagine what you can make in a day.
YS: What did you think of the judges? What was unfair?
MF: [Simon] Majumdar was very hard on all of us. He wasn't there to make friends; he was there to judge the food. Donatella played her mind games, trying to tell people what she wanted and how they should be, blah, blah, blah. Michael Symon, I think, was the voice of reason for all of us. One thing that bothered me was the way that Maneet Chauhan got told that she was cooking too Indian, that she needed to broaden her horizons, when everybody was cooking what they cooked. Ming was cooking Asian the whole time; Marco was cooking Italian the whole time. That's who she is; that's what she does.
YS: Which Iron Chef would you be most afraid to challenge?
MF: Morimoto. He looks like the epitome of an Iron Chef. He looks like he can give you a roundhouse and break your jaw.
YS: Tell us about your first official Iron Chef battle (Nov. 28, at 10 p.m. ET).
MF: R.J. Cooper is a very good chef, a great competitor. You'll see. I think [Iron Chef] is a great platform to rub shoulders with anybody out there who thinks that I'm overrated or that I'm just good because I'm Larry Forgione's son.
YS: What's next for you?
MF: Right now, my restaurant's about to get as busy as I ever wanted it to be, so I'm gonna get in the kitchen and make sure that everybody's getting the food that they should get. Come by the restaurant sometime!