Interview With Ray Isle
Wine Writer Ray Isle on Seeking Out the Right Wines — and Wineries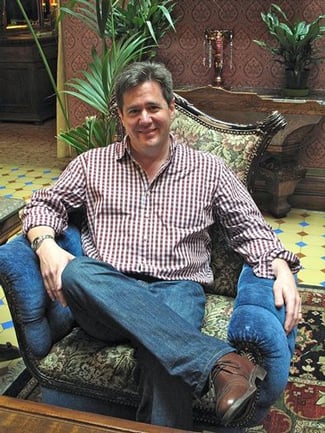 Food & Wine Editor Kate Krader may be the darling of the restaurant world, but when it comes to wine, that's the domain of Executive Wine Editor Ray Isle, who not only runs the magazine's wine section, but also organizes all of the wine seminars and tastings at the Aspen Food & Wine Classic.
We managed to snag Ray away from his busy schedule for a moment to ask him about his favorite regions and values, which wines he thinks are overrated, and what we should look for next time we hit up winery tasting rooms. See what he had to say when you keep reading.
YumSugar: What's your go-to region for value these days?
Ray Isle: For sparkling, it's Prosecco. There are so many good ones in the $10 to $12 range. I like Nino Franco and Mionetto. For whites, any Sauvignon Blanc from the coast of Chile, such as one from Casablanca or the San Antonio Valley. Montes makes a good one. Its cool, oceanside location makes some of the best Sauvignon Blancs. For red, southeast Spain, like the wine regions of Yecla and Jumilla. One grape to try is Monastrell, also known as Mourvèdre in France.
YS: What about rosés?
RI: The best thing about rosés is that they're almost all values. There's no need to spend $30 for a good rosé. I cap my purchases around $15. For a fruitier rosé, look to California or Spain, but I like the classic Southern French rosés that come out of Provence.
YS: What wine's most overrated, and what's most underrated?
RI: Bordeaux. It's both the most overrated and the most underrated wine. People pay just stupid amounts of money for some of the classified growth Bordeaux. At the same time, Bordeaux is huge, and people don't' know that there are plenty of great small producers. It's the largest wine-producing region in France.
YS: What are your favorite wine shops?
RI: I love a wine store with a great staff. In New York, Chambers Street Wines randomly has a huge collection of muscadet. I go to Burgundy Wine Company for Burgundy. As far as prices go, Garnet has some of the lowest. And in San Francisco, K & L Wine Merchants is the place where I started getting into wine.
YS: There are so many wineries to visit these days. What's your advice when booking one?
RI: Choose tasting rooms not on the main drag that don't have as many buses and shuttles. Look for smaller wineries that can offer more personal attention. Visit a winery where you can get a hands-on experience, like a vineyard tour. That's the best way to learn about it.