Interview With Top Chef's Fabio Viviani, Part II
What's Cooking With Top Chef's Fabio Viviani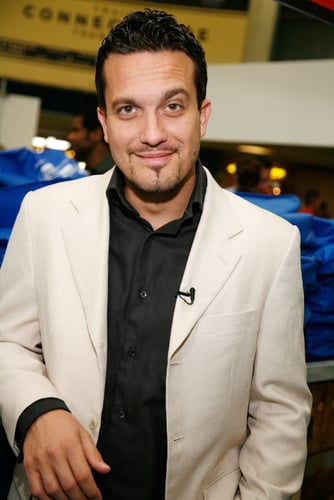 When I recently caught up with Fabio Viviani, he had plenty to tell me about his new restaurant Firenze Osteria, which the Top Chef: New York fan favorite opened last year. But the chef's not just busy with his North Hollywood eatery; he also happens to have a new TV show and book, and a number of endorsements, including San Pellegrino water and Bertolli olive oil. In between appointments (he has 60 events booked for the next six months!) he talked to me about his latest projects. More, after the jump.
YumSugar: What can you tell us about your new TV show?
Fabio Viviani: It's going to be fun. It's going to involve the restaurant scene. We'll put some people on the spot, I can tell you that.
YS: Will you be doing anything Top Chef-related anytime soon?
FV: I don't know. I'm not in contact with Bravo, and I don't have any kind of working relationship with them. I love them — they're awesome — but we couldn't get a deal going from a business point of view. I'm with a different production company now.
YS: Is it true that you're writing another book?
FV: I'm writing a second book titled My Son Is on Google: Recipes and Memories from an Italian Mom.
YS: What else are you working on?
FV: I have a clothing line come [sic] out. We get any kind of milk, and by processing it, we can get fabrics out of it. This is the most soft, delicate, squishy fabric that you ever try in your life, which means you don't wanna wear [it], you just want to wrap your face in it. It's gonna be called Minkwear, and we should be able to sell in the United States by hopefully after Summer. This is better than silk. I'm also organizing a cruise in the Caribbean in November, a cruise in the Mediterranean next year, and a trip to Italy for a handful of people.
YS: Why have you been doing so many endorsements?
FV: I don't want to look like a whore; I'm not! I'm turning away a lot of big deals. I need to like the company policy and the way they market the product. I don't think this year I'm going to work [again] with Ducati. If I have to pick between an olive oil and a motorbike, I'm a chef — I'm going to pick the olive oil.
YS: Who do you still keep in touch with from Top Chef?
FV: Not many, honestly. I used to keep contact with Stefan [Richter], but a few things went a little wrong. He's busy; I'm busy. I see Jeff when I go to Miami, and I see Carla quite a bit. We did work for the same company last year, so I saw her quite often.
YS: What happened with Stefan?
FV: Last time we spoke was the beginning of last Summer. I left the restaurant in Moorpark [Café Firenze], and one of my investors told me he [Stefan] was trying to take it over with my ex-partner that I have a lawsuit issue with. I didn't like that too much, so I tried to call him and see if it was true or not. He didn't pick up the phone, and he never returned my call. I don't know if it's true, but I have no reason to not believe one of my investors. But that's not something that you do. It's sad to know because we were having a good relationship. I hope he didn't do it, and that one day he'll call me, and we'll have a cold beer and we'll figure these things out. I figure that one day, if something's up, he'll call me. If not, I'm doing just fine. I still wish him the best. He's a very talented chef. But payback is a b*tch; karma has Italian heritage.
YS: What are you doing over the new few days?
FV: I'm in the kitchen, because I have two new guys and I have to teach them what the philosophy's about. I can teach a goat how to cook something good, but I cannot teach a work ethic. If you don't have that, you're not going to work with me.
YS: I also hear you're working on a website focused on better nutrition for kids.
FV: I'm building kidshealthcafe.com. I'm putting together a team of people who will run the website, and we're going to sell ads through it that will go toward supporting kids and nutrition. You know Jamie Oliver's Food Revolution? That was a concept I had three years ago; I was doing it in Italy. I'm one of the pioneers of that, but he's more famous than me, and he got there first. But I'm fighting the battle in my little Italian world here.