Invite Idea For Twister Game Night
Come Party With Me: Twist Off — Invite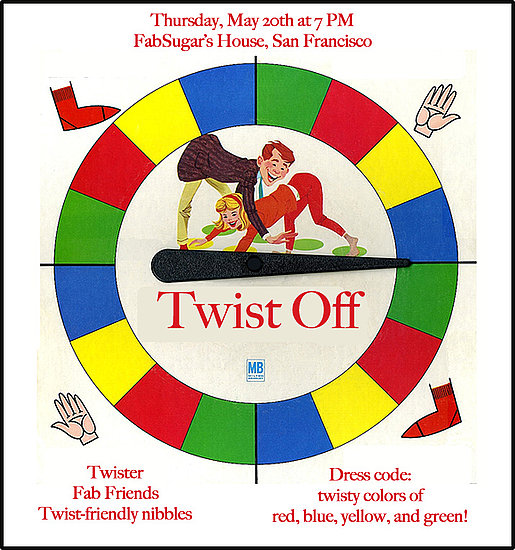 FabSugar and I are at it again. Our Apples to Apples game night was such a success that we've decided to invite friends over for another evening of fun. This time we'll be getting active playing the childhood favorite Twister! I'm doing the planning and cooking, while Fab is offering her wonderful apartment up for the night. Before we can discuss the menu, I have to send the invite. To learn how I made the cute, email-able invitation seen here, read more.
First, I did a Google Image search for the word Twister. When I found an image I liked, I dragged and dropped it onto my desktop. From there, I opened the image in Photoshop. Using the rounded rectangular and fill tools, I covered all of the original text. I added the following party details:
Thursday, May 20th at 7PM
FabSugar's House, San Francisco

Twist Off

Twister
Fab Friends
Twist-friendly nibbles

Dress code:
twisty colors of
red, blue, yellow, and green!
I sent the invite to Fab for approval, and once we double-checked the grammar and spelling, I put in a black border. Then I saved the invite as a JPEG — it can be used as an image on an evite or sent in the body of an email. Voilà! Instant amazing invite.
Have you hosted a game night? What games did you play? How did you invite friends?