Irish Beef Stout Stew Recipe
Get Lucky on St. Patrick's Day With Irish Beef and Stout Stew
St. Paddy's Day is nearly upon us, and my new favorite holiday dish is this easy Irish beef and stout stew. It's the perfect marriage of late Winter and early Spring. The beef is fall-apart tender from hours of oven braising, while the green peas added in at the last minute are a bright reminder of how gardens are finally awakening.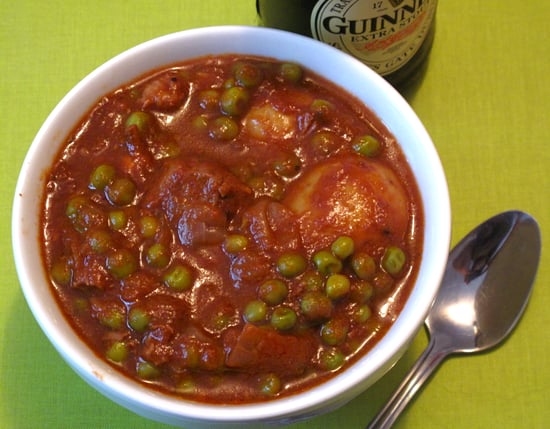 This recipe, which I discovered thanks to Everyday Food, requires virtually no prep time but a significant amount of cooking time, so make it when you're cleaning the house or tuning in to your favorite TV shows. Then sit down to dinner with a lime shandy and Guinness ice cream for the ultimate March 17 meal. Get the recipe here.
Ingredients
4 pounds beef chuck or beef stewing meat, cut into 1 1/2-inch cubes
1/4 cup all-purpose flour
2 cans (6 ounces each) tomato paste
2 1/2 pounds new potatoes, scrubbed
2 medium onions, cut into 1-inch pieces
2 cans (14 1/2 ounces each) reduced-sodium beef broth
1 can (14.9 ounces) Irish stout beer, such as Guinness
10 garlic cloves, sliced
Coarse salt and ground pepper
2 boxes (10 ounces each) frozen baby peas, thawed
Directions
Preheat oven to 350. In a 5-quart Dutch oven or heavy pot, toss beef with flour; stir in tomato paste. Add potatoes, onions, broth, beer, and garlic; season with salt and pepper. Cover, and bring to a boil over medium heat, stirring occasionally.
Transfer pot to oven, and cook, covered, until meat is fork-tender, 2 1/2 to 3 hours. Stir in peas, and season with salt and pepper.
Serves 10.
Information
Category

Main Dishes, Beef

Cuisine

English/Scottish/Irish