Italian Appetizer Menu For Housewarming Party
Come Party With Me: Half-Birthday Housewarming — Menu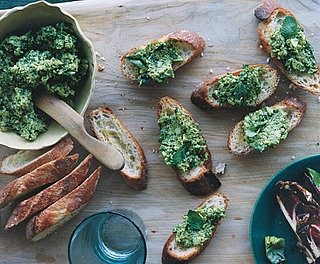 On birthdays (and half birthdays), I like to make my favorite foods, thus for my half-birthday housewarming, I plan on serving a spread of delectable Italian bites. The party goes from 7:30-10 p.m., smack in the middle of dinner time, so I'll need to offer a substantial amount of food. I don't want to spend days in the kitchen or prepare anything that requires a plate and utensils; that's why I'll take some help from the grocery store and make four easy appetizers.
From the Italian market I'll purchase charcuterie, an assortment of cheese, marinated olives, grissini, nduja and crusty bread. A quartet of homemade dishes — stuffed marinated hot red cherry peppers, polpette in spicy tomato sauce, roasted asparagus wrapped in prosciutto, and arugula and fava-bean crostini — rounds out the menu. To check out the recipes I'll be using, read more.
Ingredients
14 hot red cherry peppers, cored and seeded, tops reserved
4 ounces young pecorino or provolone cheese, cut into 1/4 inch cubes
14 small sprigs fresh marjoram
1/4 cup extra-virgin olive oil
2 tablespoons red wine vinegar
1 garlic clove, minced
2 teaspoons coarse salt
1/4 teaspoon freshly ground black pepper
Crusty bread, for serving
Directions
Stuff each pepper with cheese and a sprig of marjoram. Transfer stuffed pepper and pepper tops to a glass loaf pan.
Whisk oil, vinegar, garlic, salt, and pepper in a small bowl. Pour over peppers. Let marinate at room temperature 1 hour.
Preheat oven to 400 degrees. Place tops on peppers. Cook until cheese has melted and peppers are tender, 12 to 15 minutes. Let cool slightly. Serve with bread.
Makes 14 peppers.
Information
Category

Vegetables, Appetizers

Cuisine

Italian