Italian Salsa Verde Recipe
The Basics: Italian Salsa Verde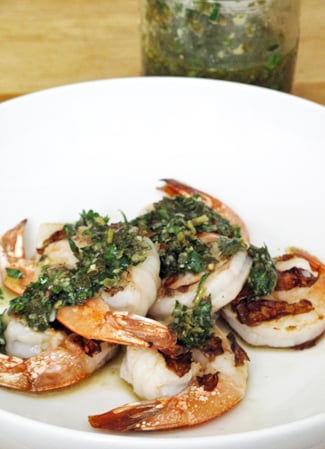 Aside from an ice-cold refreshment, nothing goes better with Summer grilling than an array of fresh sauces and homemade condiments. It's true: a brushstroke of tangy barbecue sauce on ribs or a dollop of aioli on a burger adds a mouthfeel and an element of excitement to basic Summer staples like grilled meats and vegetables.
Italian salsa verde is, in my opinion, the most underrated of condiments. It's oft-overlooked in favor of its tomatillo-based Mexican counterpart, but the ingredients are entirely different. Think of this version as a more piquant, less garlicky rendition of chimichurri — a little drizzle colors any food with a brightness that's not unlike a ray of sunlight on a breezy Summer day.
Try this five-minute sauce for yourself, and you'll see that its great fresh-pulled mozzarella, just-picked heirloom tomatoes, grilled pattypan squash, charred steak, barbecued chicken — heck, probably your old leather boot. See for yourself when you read more.
Ingredients
1 garlic clove, minced
3/4 teaspoon fine sea salt
1/2 teaspoon freshly ground black pepper
1/2 teaspoon dried crushed red pepper
1/2 teaspoon (packed) grated lemon zest
3-1/2 tablespoons freshly squeezed lemon juice
3/4 cup extra-virgin olive oil
3/4 cup (packed) chopped Italian parsley
1 tablespoon capers, drained
2 anchovy fillets, chopped
Directions
Combine all ingredients in a food processor. Season with more salt and pepper if necessary.
Makes 1 cup.
Notes:
This can be made ahead and kept in the refrigerator for up to a week (or frozen for a longer period of time if necessary). Bring the salsa verde to room temperature, and give it a good whisk or shake in the jar before using.
Information
Category

Condiments/Sauces, Salsa

Cuisine

Italian