Italian Steak and Bread Salad Recipe
Fast & Easy Dinner: Italian Steak and Bread Salad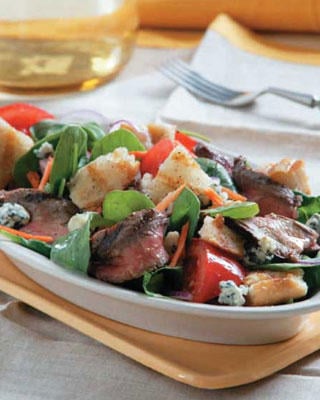 My favorite steak sandwich involves blue cheese and fresh arugula. When I came across this recipe for an Italian steak and bread salad, I was intrigued because it takes the sandwich ingredients and turns them into a hearty dinner salad.
The resulting dish has all the familiar flavors of a gourmet steak sandwich, but requires a fork to eat. The recipe is highly adaptable, so feel free to use chicken, goat cheese, or mushrooms in place of the steak, blue cheese, and tomatoes. For the method,
.


Ingredients
12-oz 3⁄4-in.-thick sirloin steak
1⁄2 a 1-lb loaf French bread, split
Garlic-flavor cooking spray
1⁄2 tsp salt
1⁄2 tsp pepper
2 cups ripe tomato chunks
2 bags (6 oz each) baby spinach trio (baby spinach, arugula and carrots), or 2 bags (6 oz each) baby spinach
1⁄2 cup sliced onion
1⁄2 cup crumbled blue cheese
1⁄2 cup olive oil & vinegar dressing
Directions
Heat outdoor grill or stovetop ridged grill pan. Coat steak and cut surfaces of bread with garlic spray; sprinkle with salt and pepper.
Grill steak, turning once, 6 minutes, or until an instant-read thermometer inserted from side to middle registers 155°F. Remove to a cutting board, cover loosely with foil and let rest. (Temperature of steak will continue to rise to 160°F for medium doneness.)
Meanwhile, grill bread, cut sides down, 2 minutes, or until lightly toasted.
Cut bread in chunks; thinly slice steak. Combine in a bowl with remaining ingredients; toss to mix.
Serves 4.
Information
Category

Meats, Salads

Cuisine

Italian