Jalapeno Biscuits Are Scrumptious and Spicy
On a recent trip to Las Vegas, I had brunch at Bobby Flay's Mesa Grill. While my entire meal was delicious, I especially enjoyed the variety of breads that accompanied the breakfast. There was crunchy coffee cake, dried fruit-tequila scone, and my absolute favorite: bite-sized jalapeno biscuits. The flaky biscuits were spicy without being overpowering; a perfect balance of heat. I loved them so much I decided to experiment with a homemade re-creation. These scrumptious and easy-to-make biscuits were similar to the ones I ate at the restaurant. They would be a perfect accompaniment to a big bowl of chili or a hearty black bean soup. If you are sensitive to spiciness, be sure to remove all of the seeds and white membrane from the jalapeno. To get started on your own spicy buttermilk biscuits,
.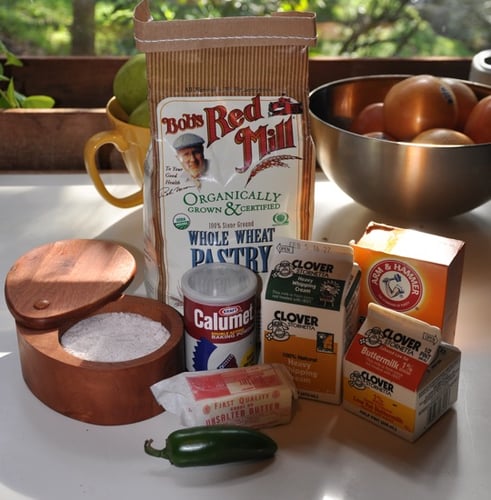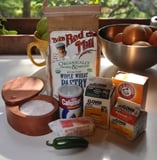 Ingredients
2 cups all-purpose flour
2 teaspoons baking powder
1/2 teaspoon baking soda
1/2 teaspoon salt
6 tablespoons cold unsalted butter, cut into small pieces, plus 2 tablespoons, melted
3/4 cups cold buttermilk
1/4 cup heavy cream
1 jalapeno diced, remove seeds and white membrane
Directions
Preheat oven to 450°F. Combine flour, baking powder, baking soda, and salt in a large bowl. Using a dough cutter, combine until ingredients are incorporated.
Scatter the cold butter pieces over the top of the flour mixture and continue to combine until the mixture resembles coarse meal. Add the jalapeno and buttermilk and pulse until the mixture just begins to come together.
Scrape the dough onto a lightly flour counter. Pat the dough into a 10-by-12-inch rectangle about 3/4-inch thick. Use a round cutter or glass with the rim dipped in flour to cut out biscuits. Press together the scraps of dough, and repeat process.
Place the biscuits on baking sheets lined with parchment paper; brush the tops with cream. Bake the biscuits for 10 to 12 minutes or until lightly golden brown. Remove from the oven and brush the tops with melted butter.
Makes 20 biscuits.
Information
Category

Breads, Biscuits