Jamba Juice to Sell Hot Blended Beverage Line
Jamba Juice Turns to Hot Blended Drinks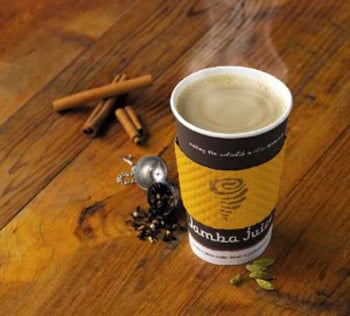 Most of you aren't taken by the idea of a hot smoothie, but maybe the concept isn't too far off. This week, Jamba Juice introduced Hot Blends, a new line of organic hot blended beverages. The drinks, which are $2.95 for 12 ounces, come in four flavors: Heavenly Green Tea, Perfectly Chocolate Chai Tea, Original Spiced Chai Tea, and Classic Hot Chocolate. All are blended hot with nonfat, two percent, or soy milk. "Building on the spin of the blender and taking it from cold smoothies to hot beverages is something that hasn't been done before," the company said.
Jamba has also begun serving new scones and Mighty Leaf whole leaf teas in-store. Later this month it will expand its grocery offerings with smoothies in three of its most popular flavors: Razzmatazz, Mango-a-Go-Go, and Strawberries Wild. The make-at-home smoothie packs will come with frozen fruit, nonfat yogurt, and antioxidant boosts.
Sounds like Jamba Juice is firing back at other chains competing for market share in the recent fast food coffee drink and breakfast wars. I think the idea of hot blended drinks is silly — that's why it's never been done before! Do you agree?