Jamie Oliver Quick Meal With Chicken Pot Pie Recipe
Sit Down to Jamie Oliver's Fall Feast in Just One Hour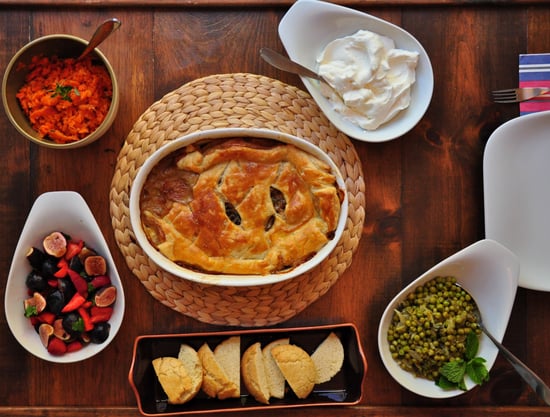 I have loved Jamie Oliver since his days on The Naked Chef and have eagerly picked up each one of his cookbook along the way. One of my favorites, Meals in Minutes, is a different take on the traditional cookbook: rather than giving instructions for individual dishes, the recipes are full meals that, in his words, only take about 30 minutes to prepare with some practice.
Fall is arriving in San Francisco, so it was the perfect opportunity to try out one of his comforting meals made up of chicken pot pie, smashed carrots, French-style peas, and a seasonal fruit shortcake-like dessert. Rather than make use of prepared ingredients like pre-sliced mushrooms to save time, he calls on home cooks to use whole ingredients and pull out their food processors for quick prep. This amazing dinner took me about an hour (including the photos along the way), so it really was a delicious and doable weeknight meal. See if you can beat my time for this fast feast when you keep reading for the recipe.
Chicken Pot Pie, Carrot Smash, French Style Peas, Berries & Cream
From Meals in Minutes by Jamie Oliver
Ingredients
For chicken pie:
4 6-ounce boneless, skinless chicken breasts
A pat of butter
A bunch of scallions
6 ounces button mushrooms
1 heaping tablespoon all purpose flour, plus extra for dusting
2 teaspoons English mustard, such as Colman's
1 generous tablespoon heavy cream
1 1/4 cups chicken broth
A few sprigs of fresh thyme
Whole nutmeg
1 large sheet of all-butter puff pastry, thawed
1 egg
For carrot smash:
1 1/2 pounds carrots
A few sprigs of fresh thyme
For French-style peas:
1 heart of romaine lettuce
A pat of butter
1 tablespoon flour
1 1/4 cups organic chicken broth
A few sprigs of fresh mint
4 cups of frozen peas
1/2 a lemon
For berries and cream:
1 pound mixed berries such as blueberries, raspberries, strawberries, or figs
Elderflower cordial, optional
The juice of 1/2 a lemon
2 sprigs of fresh mint
A few Scottish shortbread biscuits
2/3 cup heavy cream
1 heaping tablespoon confectioner's sugar
1 tablespoon vanilla paste or vanilla extract
Seasonings:
Olive oil
Extra-virgin olive oil
Sea salt
Black pepper
Directions
Get all of your ingredients and equipment ready: Turn the oven on to 400ºF. Fill a tea kettle with water and set over high heat. Put a large skillet on medium heat and large saucepan with a lid on a low heat. Put the thick slicer disc attachment into the food processor.
Start chicken pie: Put the chicken breasts on a plastic board and slice into 1/2 inch strips. Put a glug of olive and the butter into the large skillet. Add the chicken and cook for 3 minutes or so. Meanwhile, quickly trim the scallions and wash the mushrooms then slice together in a food processor. Add to the pan with the flour and stir. Add the mustard, heavy cream and chicken broth. Stir well. Pick the thyme leaves off the stem and add to the pan with a few gratings of nutmeg and a good pinch of salt and pepper. Leave to simmer.
Start carrot smash: Trim the carrots, and then quickly slice in the food processor. Add to the saucepan with a glug of extra-virgin olive oil, a good pinch of salt and pepper, and a few thyme leaves. Just cover with boiled water, then cover with a lid and tun the heat to high. Cook for 15 minutes until tender.
Finish chicken pie: Lightly dust a clean surface with flour and unroll the sheet of puff pastry. Use a small kitchen knife to lightly crisscross and score it. Take the pan of chicken off the heat. Tip the filling into an ovenproof baking dish slightly smaller than the sheet of pastry (approximately 9x13 inches). Cover the filing with pastry sheet, tucking in at the edges. Quickly beat the egg then brush it over the top of the pie. Put into the oven and cook on the top shelf for around 15 minutes or until golden and gorgeous. Fill and reboil the kettle.
Start French peas: Return the empty chicken pan to a high heat. Quickly wash the lettuce and the slice it in the food processor. Add a pat of butter and 1 tablespoon of flour to the pan, then pour in 1 1/4 cups chicken broth, tear in the mint leaves and use a balloon whisk to mix to a smooth and bubbling sauce. Add the peas and the slice lettuce. Squeeze over the juice if 1/2 lemon, pour in a splash of boiled water, season with salt and pepper, stir, then put the lid on it.
Make berries and cream: Slice any larger strawberries, if using, then put all of the fruit into a large serving dish. Add a little slug of elderflower cordial, if using, and add the lemon juice. Mix to coat the fruit then pick the mint leaves and tear over. Take to the table with the cookies. Using an electric whisk, mix the heavy cream with the confectioners' sugar and vanilla paste until thick. Put next to the berries on the table.
Finish carrot smash: Check the carrots are cooked through, then drain and return to the pan. Taste, correct the seasonings and leave as they are or smashed up. Take to the table.
To serve: Take the peas to the table, then get the pie out of the oven and tuck in.
Information
Category

Main Dishes

Yield

Serves 4