Jamie Oliver Recipe for Sweet and Sour Pork
Jamie Oliver's Scrumptious Sweet and Sour Pork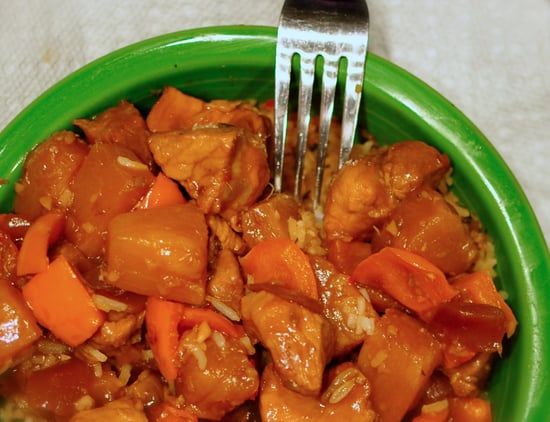 I watched the entire Jamie Oliver Food Revolution show and absolutely loved his message. I have always enjoyed his recipes since he was known as the Naked Chef. Last weekend, I decided to pick up his new book Jamie's Food Revolution and so far, I have not been disappointed. I made his sweet and sour pork dish for dinner last night and it was truly amazing. It is basically a simple stir-fry, but none of the pork is fried like at a Chinese restaurant. Hands down, this was the best I had ever eaten. It is perfect for a week night dinner since I am always short on time. Give this recipe a try and I promise you won't be disappointed!
For the easy exotic recipe, keep on reading.
Ingredients
Sea salt and freshly ground black pepper
1 cup long-grain or basmati rice
1/2 pound pork tenderloin, preferably free-range or organic
1 small red onion
1 red or yellow bell pepper (or half of each)
A thumb-sized piece of fresh root ginger
2 cloves of garlic
1/2-1 fresh red chile, to your taste
a small bunch of fresh cilantro
Peanut or vegetable oil
1 heaped teaspoon five-spice powder
1 teaspoon cornstarch
2-3 tablespoons soy sauce
1 8-ounce can of pineapple chunks
2 tablespoons balsamic vinegar
1 small heart of romaine or heat butter lettuce, torn into large pieces
2 teaspoons sesame seeds, toasted if desired
Directions
To prepare your stir-fry: Bring a pan of salted water to a boil and add the rice. Cook according to package directions. Drain the rice in a strainer, put back in the pan, and cover to keep warm until needed.
Halve the pork tenderloin and cut into 3/4-inch cubes. Peel and halve the red onion, then dice into 3/4-inch cubes. Halve the bell pepper, seed, and cut into 3/4-inch cubes. Peel and finely slice the ginger and garlic. Finely slice the chile. Pick the cilantro leaves and put them to one side. Finely chop the cilantro stalks.
To cook your stir-fry: Preheat a wok or large frying pan on high heat and once it's very, very hot, add a good lug of oil and swirl it around. Add the pork and five-spice powder and toss or stir them around. Cook for a few minutes until browned, then transfer to a bowl using a slotted spoon.
Carefully give the wok or pan a quick wipe with a ball of paper towels and return to the heat. When it's really hot, add 2 good glugs of oil and all the chopped ingredients. Toss or stir everything together and cook for 2 minutes.
Stir in the cornstarch and 2 tablespoons of soy sauce. Let everything cook for 30 to 40 seconds, then add the pineapple chunks with their juice, the browned pork and balsamic vinegar. Season with black pepper and a little more soy sauce, if needed.
Break open a piece of the pork, check it's cooked through, and remove from the heat. Reduce the sauce to a gravy-like consistency by cooking for a few minutes more.
To serve your stir-fry: Divide the rice and lettuce between two bowls or plates. Spoon the pork, veggies, and sauce over the top and sprinkle with the sesame seeds and reserved cilantro leaves.
Information
Category

Main Dishes, Pork

Yield

Serves 2