Jamie Oliver Talks About Food Revolution Season 2
Jamie Oliver on Food Revolution 2, Huntington a Year Later, and LA Schools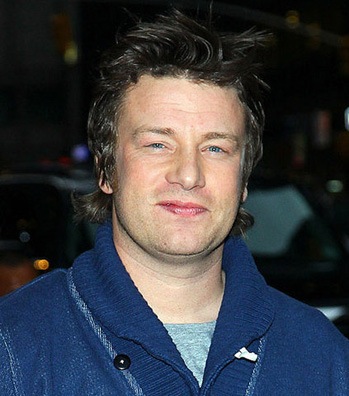 With Jamie Oliver's Food Revolution, British culinary celebrity Jamie Oliver has made a name for himself as an advocate for healthier American eating. The show's first season, shot in obesity-stricken Huntington, WV, received critical acclaim and garnered a Primetime Emmy in 2010.
Food Revolution's second season returns to ABC April 12 at 8 p.m. The comeback takes place in Los Angeles and faces an entirely new set of challenges, including resistance from the city's public school system.

While in South Beach, Katie and I took a minute to ask the chef about season two, his troubles with the Los Angeles school system, and what he thought of Huntington losing its school funding. His surprising answers, when you read more.
YumSugar: Our readers voted you their favorite male chef!
Jamie Oliver: Really? [Pauses.] Does anybody know who I am? Jesus. That's amazing! That's really nice.
YS: For your second season, why did you choose LA?
JO: Where the hell do I start? We went to LA for two reasons: one, I didn't want to go back to the next unhealthiest town in America, 'cause I didn't want it to be seen as a format; two, there's enough good sh*t going on in California, genuinely, amongst a lot of bad stuff. From a blatantly strategic point of view, if we can make any form of change in California . . . if anything happens in law . . . anything we achieve there will go across the whole of America.
YS: It's been quite the ordeal shooting in LA schools, hasn't it?
JO: The LAUSD proactively went to the Los Angeles Times, and did a big public relations spiel: "We don't want him coming in. We hate reality TV; it's all about conflict and drama." In them doing that — which is quite bullsh*t, really — what they did was piss off thousands of parents. I could've avoided the LAUSD, but I couldn't avoid thousands of [letters from] parents. Of course that became, hilariously, the conflict and drama.
YS: What did you see?
JO: We worked in fast food; we were running a drive-thru, just to sort of learn the mechanics of food and how it works, the challenges. When people came in to order their burgers . . . we health checked everyone on a certain day, and actually sent four people directly to the hospital. But the most passionate part, really, was peoples' homes and their families' homes.
YS: How does it compare to [season one in] Huntington, WV?
JO: It's just so different from last year: the look, feel, pace. Huntington was actually a well-structured, observational documentary, from my perspective. Yes, it adds some dramatic Americanized "Jamie Oliver," which, you know — ABC prime time, whatever — but this year was just fly-by-the-seat-of-your-pants. What was interesting about the LAUSD is that it's the most untransparent system I've ever seen in my life . . . Ultimately, it costs you, the taxpayer, $9 billion a year. In my country, if there's a public service, I have a right as a member of the public, or as a journalist, or a program maker, to ask questions and get them f*cking answered. Here, I'm like, what?! America is a famous democracy, and I could've phoned up some of the most repressed countries in the world and gotten access to a school food system. North Korea, Afghanistan, Iran: do you honestly think I couldn't get there in a week? Of course I could. And they'd f*cking answer my questions. Why? Because it's only food, it's only kids. Really. It's not military secrets.
YS: What's your reaction to US Foodservice pulling its funding out of Huntington, WV, after season one?
JO: I'm surprised that such a big organization couldn't fund such a cheap thing, because they'd sort of promised they would. I'm a bit upset because US Foods is such a massive company. [The good news is] Doug Shields, who runs Cabell County Hospital, has continued funding the kitchen without any of our intervention, which means that we set up a good, sustainable, reasonable relationship . . . He's doing fund-raising to find the missing cash that would replace what US Foodservice would do . . . I'm hoping that we'll get US Foodservice back.
YS: Does what's happened take away at all from what change you effected in Huntington?
JO: To be honest, I'm really proud of everything . . . We're still having about 6,000 people go through that kitchen every year; it's still on fire. The town's putting farmers markets on that they've never had before. There's a West Virginia restaurant in their own town now, instead of just fast food — that wasn't there before. I'm not saying Huntington's fixed, but it's no longer on the top 10 list . . . We did a pretty good job, actually. If the only thing that's pulled out in all that time is US Foods, that's pretty good. Then I look at LA and think, "What happened?" It's an absolute mess! But I think there's use in that mess.
YS: What would you like to see happen next?
JO: I think every supermarket in the country, period, should sponsor a school — $20,000, $30,000 a year. That could represent a salad bar, a garden, a few key members of staff, a few hours here and there. Can they afford to do it? Of course. Is it propagating the customers of the future? Of course. It's ethically a win-win . . . Health statistics say we're in the darkest health epidemic ever. Over 50 percent of deaths are diet-related, compared to 0.8 percent homicide, just to put it in perspective. There isn't a national campaign of vigor, like the smoking ban. We haven't taken it seriously yet.
YS: Will America ever take its health seriously?
JO: I have total faith in the American public. Never, never, ever have I had any sh*t from them. It's always been the corporate side or the bureaucracy side.