Oy vey! What hath Korean fusion and the kimchi quesadilla wrought? Why, a new crop of Jewish fusion restaurants across the country. A number of openings in New York and elsewhere have opened diners' eyes to new deli possibilities beyond potato knishes and pastrami sandwiches.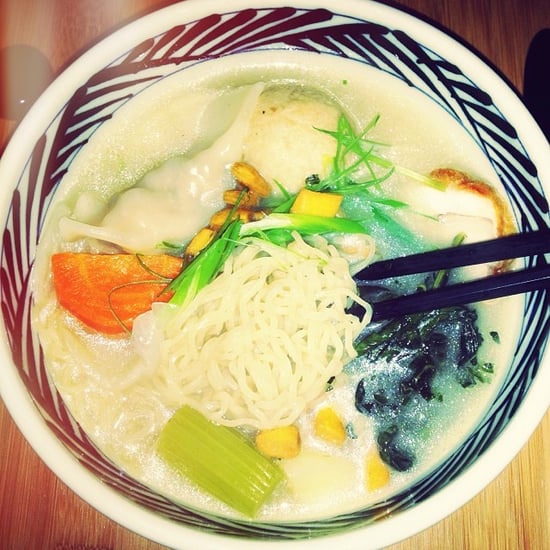 Shalom Japan's matzo ball ramen
At Aaron Israel and Sawako Okochi's much-talked-about South Williamsburg restaurant, Shalom Japan, hungry patrons can gather round what the chefs describe as "authentically inauthentic Jewish and Japanese food," such as gyoza stuffed with ground chicken and foie gras, or an Israeli take on the Scotch egg encrusted with falafel.
Smoked salmon quesadillas from El Ñosh
Then there's El Ñosh, Eric Greenspan and Roberto Treviño's traveling Jewish-Latin pop-up, where salami tamales and smoked salmon quesadillas abound. For dessert, who can resist a poppy-seed- and sesame-encrusted churro with "gelt melt" for dipping? At The Avenue Delicatessen in Philadelphia's Lansdowne borough, it's all about what the owners refer to as "Jewtalian" cuisine, a mashup of the husband-and-wife team's Italian and Jewish heritages. What does that entail? Think reuben arancini (deep-fried risotto balls stuffed with corned beef, sauerkraut, and swiss, served alongside russian dressing), and challah french toast alongside pancetta and potato latkes.
Keep reading for more pics of Jewish fusion cuisine.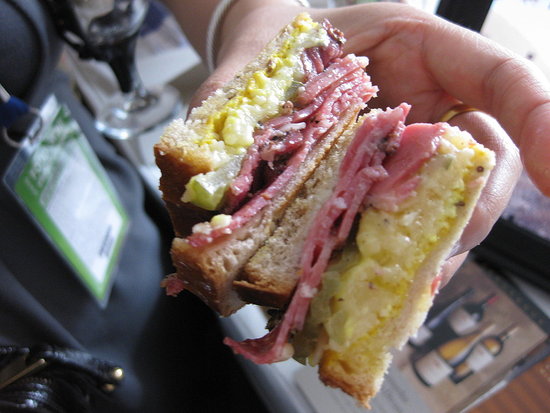 Ilan Hall's Jewban with salami, pastrami, and horseradish cheddar
The idea of Jewish fusion first entered our minds when Knife Fight host and Top Chef season-two winner Ilan Hall opened his Jewish-Scottish restaurant, The Gorbals, in downtown Los Angeles four years ago. On the menu were some unabashedly unkosher bacon-wrapped matzo balls, Jewban sandwiches, and Manischewitz-braised pork belly. "It's what I call sacrilicious," he told reporters. Hall plans to open a New York outpost of The Gorbals in the coming months.
Whether it's Jewish-Japanese, Jewish-Latin, Jewish-Scottish, or Jewtalian, one thing that all these restaurant owners seem to have in common is a multicultural heritage that's given them unique, fun-loving culinary points of view. Well, that and a love for all things matzo ball, whether served with albóndigas like at El Ñosh, in matzo ball ramen like at Shalom Japan, or in Jewish wedding soup like at The Avenue Delicatessen. Or wrapped in bacon, of course.