Jimmy Fallon Introduces Late Night Snack Ben and Jerry's Flavor
Jimmy Fallon Launches Late Night Snack With Ben and Jerry, Calls Colbert's Flavor "Ridiculous"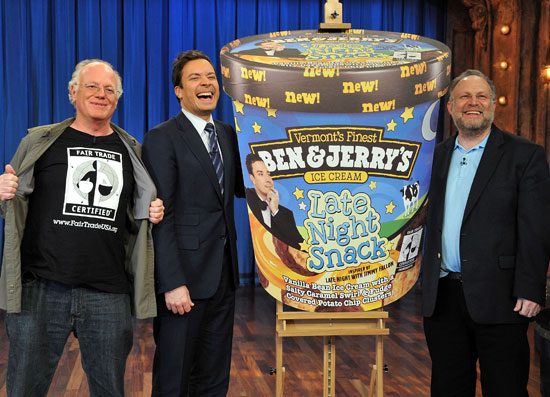 Jimmy Fallon could hardly contain his enthusiasm last night when he joined forces with Ben and Jerry of, well, Ben & Jerry's at NBC headquarters in NYC. The trio were finally able to announce a project they've long been working on — Jimmy's brand-new ice cream flavor called Late Night Snack! The dessert, which melds salty and sweet with fudge-covered potato chip clusters in vanilla bean ice cream with a caramel swirl, will be available nationwide this week.
The three men sat down for a short press conference, which included Jimmy chatting about their shared interest in fair trade products and explaining how the idea of a collaboration stemmed from his "Ladysmith Snack Mambazo" skit with The Roots. Jimmy even managed to start a good-natured rivalry over Stephen Colbert's Americone Dream. Jimmy said:
On the flavor being inspired by a Late Night skit: "This is why I say everyone should get their own talk show . . . We were just thinking about ideas, something about late night snack. What do you have when you watch our show? Is popcorn good? You can't have pizza. Pretzels — they kind of did that with Chubby Hubby. Then we were like, potato chips!"
On donating the profits to fair trade organizations: "Two of the main ingredients are fair trade — and I was like, I've heard of fair trade, but I don't know what it is really, but I know it's fair . . . the cocoa from the fudge on the potato chip is fair trade and the vanilla bean in the vanilla ice cream is fair trade . . . it just gives farmers in developing countries a fair shot to make a living off farming. It's a fair price. It's just a great thing. I was just so psyched that was part of the deal. [Ben & Jerry's] said you get a percentage of this, you and NBC can split it. And I was like, all right! Then they said, 'Or you can donate it to charity.' So it went to Fair Trade Universities, which goes around to college campuses and teaches kids about fair trade."
On how his flavor stacks up to Stephen Colbert's: "Stephen Colbert is a jealous son-of-a-b*tch. I wish I never see his ice cream next to mine. In fact, I asked to be separated from his ice cream flavor. Americone Dream? Oh my gosh — ice cream cones in ice cream? What a genius idea! He's Albert Einstein! Whatever. I don't want to even discuss it . . . I'd rather not besmirch the name of Late Night Snack by bringing up Stephen Colbert's ridiculous ice cream."