John Besh Interview | South Beach Food Festival 2013
John Besh: "Today's Cooking Has Become So Cerebral"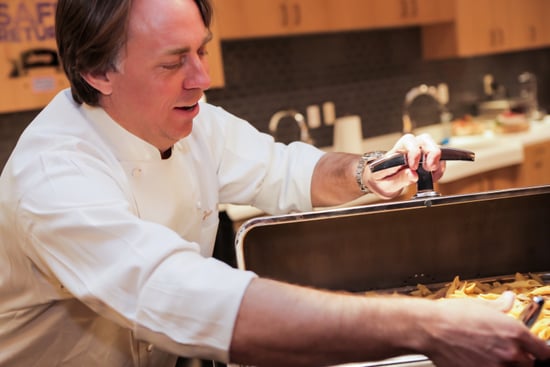 Mardi Gras may have come and gone, but thanks to advocates like chef John Besh, New Orleans cuisine will always be in style. The Louisiana-based culinary personality — who runs nine restaurants, has authored three cookbooks, runs a charitable foundation, and hosts a forthcoming show on PBS — has been one of Crescent City's biggest ambassadors. We caught up with the chef poolside in South Beach, where we discussed everything from life lessons to ingredient obsessions.
POPSUGAR: What's keeping you busy right now?
John Besh: I have a new series coming out this Spring on American Public Broadcasting, which is called John Besh's Family Table, filmed in my house. It's strictly the foods that my wife and I feed our four boys, and the way that we create menus around that idea of cooking and eating as a family. My third cookbook will be released in the Fall; it's called Cooking From the Heart. It's about anecdotes and delicious recipes from my apprenticeships in both Germany and France, a tribute to stepping back good, gutsy food like blanquette de veau, that style of cooking. I wanted to focus on the idea of eating, dining, and learning more about yourself in the process — life lessons about food.
PS: Sounds like John Besh's Family Table is inspired by your book My Family Table. Tell us more about it.
JB: I created a book because my wife challenged me to the fact that I was running all over, sourcing ingredients for all of our wonderful paying customers. But at home, I kind of left that up to my wife. [She said], "If you cared half as much about what we're eating as [you do] your customers, then we would be a lot better off." That had me really think about why is it that I do what I do. It can't be just to make a living; I need to spread this kind of passion, and it starts with family. So I started operating the kitchen at home like I would operate a professional kitchen. Let's say I'm making this great centerpiece with pork shoulder and black-eyed peas; I'll take that shoulder and create anything from a green chili to Vietnamese noodle bowls to Cuban sandwiches.
PS: Why public broadcasting?
Find out his answer when you keep reading.
JB: It's really the only way that a chef can cook now on television without it becoming a spectacle. I love Top Chef, and that has a place, but that's entertainment, as opposed to a good, informative cooking show. Today there's all sorts of outlets for food, but it's very limited as far as what a chef is able to do on television. It used to be that Emeril had a show, and you could watch Emeril cook, and Emeril was fine in that kitchen just cooking, and you could learn a lot from it. But now there's very little of that. So that's what I wanted to do. I look at public broadcasting as being very smart and true, so it gives me the artistic freedom to create a show with integrity that's really just all about the food, and you're not getting any pomp and circumstance. My point is to inspire people to cook, and that's really the only venue that I have to do that other than cookbooks.
[A waiter arrives and, along with listing the day's special, announces that it is National Margarita Day.]
JB: You know what? We ought to just have a few margaritas.
PS: Let's do it.
JB: Well, that was hard, to twist your arm. [Andrew Zimmern walks by.] Hey Zimmern! Put your shirt back on!
[Oversize margaritas arrive at the table.]
JB: Are you serious? [Points to the margarita, which reads, "Bucket o' Booze."] This might be an omen to stay away. "I'll have a bucket of booze!" Cheers. Happy Margarita Day.
PS: Cheers! OK, tell me more about your forthcoming book, Cooking From the Heart. You said it's got a lot of good stories?
JB: A lot of good anecdotes on everything. I grew up fishing, for instance, but I never really learned how to respect the fish until I went and worked for some of my mentors in Europe, where you're just not slapping spices all over it or frying it; you're approaching each and every ingredient with a respect and a reverence for the food. Those little lessons just went a long way in shaping the way that I would go about cooking for the rest of my life.
PS: Where were these apprenticeships?
JB: One was in the Black Forest in the town of Öbermunstertal. The '80s and '90s, as a cook, you just flew ingredients in from all over — more is better, foie on everything — that was called "haute cuisine." And I went there to really take a step back. That had this huge sustainable food movement effect on me; it's really spawned the way [my] restaurants operate today. Another was for Alain Assaud in the Saint-Rémy-de-Provence, where I had to understand how a true bouillabaisse or soupe de poisson is made. Also, north of Avignon, there's this beautiful little place called Bagnols-sur-Cèze, where I worked for a family-owned Chateau de Montcaud. That was another lesson in being true to the culture that you come from and respecting everything along the way. I learned to respect food in Germany, and I learned to love it in France. That time period had an enormous effect on the way that I still think about food.
PS: So what was your biggest takeaway?
JB: The biggest lesson from my apprenticeships? To taste. You don't do that often enough. That's why this is called Cooking From the Heart, because today cooking has become so cerebral: we talk about it so much, and we think about it so much, and we tend to overanalyze and overmanipulate food to such a degree that if we're not careful, we lose the essence of what it's really all about: that's to bring people together. So much of that juicy goodness will be lost if we don't reflect upon the overall importance of it.
PS: Anything you're obsessed with right now, ingredient-wise?
JB: I think my obsession at home would be fermented peppers, and fish sauces, and really good XO sauce. You don't know where it's coming from, but you're getting just a little jab of flavor and depth in food.
PS: What are the most exciting restaurants in New Orleans today?
JB: I think the thing that makes New Orleans is everything from the po'boy shop to a lunch at Galatoire's, and everything in between. Half of my sous chefs have left and opened these incredible restaurants, from Coquette to Root. But I still love the idea that I can . . . open up a menu and I know where I am. There are only a handful of places in our country that have an indigenous urban cuisine left. I think that's what makes New Orleans really special.
PS: There are a lot of New Orleans classics. I know you're democratic and all, but I'd like you to take some sides. Official cocktail: Sazerac, Hurricane, Gin Fizz, French 75?
JB: Ramos gin fizz in the morning, Pimm's Cup in afternoon. At night, definitely Sazerac.
PS: How about raw gulf oysters or Oysters Rockefeller?
JB: What time of year? What's the occasion? I'm asking the questions here! We love our oysters. We eat more on the half shell than we do Rockefeller — they're really heavy — but they're so, so good when they're made right.
PS: Crystal or Tabasco?
JB: Tabasco. Tabasco is that one thing that we use in our cooking and at the table, whereas Crystal's what we generally go to as a New Orleanian for your friend oyster po'boy, with lots of Blue Plate mayonnaise. But Tabasco rules out.
Source:
Getty
, Nicole Perry