Jose Andres Gazpacho Recipe
Summer's Ripe For a Classic Spanish Gazpacho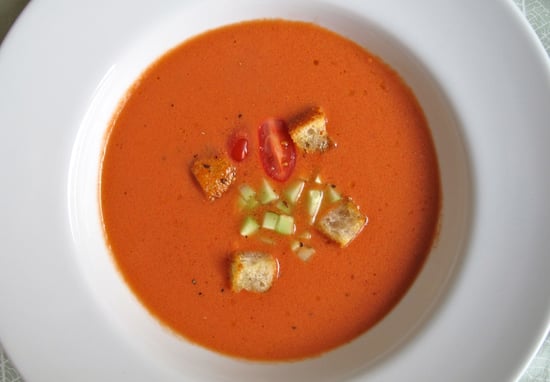 It goes without saying that summertime is salad time, but when the mercury rises, I actually prefer to sip my salad. After all, what could be more refreshing than a bracing shooter of chilled gazpacho?
At this year's Aspen Food & Wine Classic, José Andrés demonstrated how to make his wife's gazpacho. "This is the best salad in the history of mankind. When you drink everything, life is so much better!" José exclaimed to the audience. He proceeded to serve the soup with a shot of gin for a Spanish Bloody Mary of sorts.
Don't omit the Oloroso sherry and sherry vinegar from this authentic Andalucían recipe; it adds a long, lingering finish to every spoonful. For the recipe, keep reading.
Ingredients
For the soup:
1 cucumber, peeled, seeded, and chopped
1 green bell pepper, diced
3 pounds ripe plum tomatoes, diced
2 garlic cloves, peeled
1/4 cup sherry vinegar
1/2 cup Oloroso sherry
3/4 cup Spanish extra-virgin olive oil
For the garnish:
2 1-inch-thick slices rustic bread, cut into 1-inch cubes
1/4 cup Spanish extra-virgin olive oil
1/2 cucumber
12 cherry tomatoes, halved
Sea salt
Directions
Make the soup: Combine the cucumber, bell pepper, tomatoes, garlic, sherry vinegar, sherry, olive oil, and 2 cups of water in a food processor or blender. Purée until smooth. Strain the gazpacho into a pitcher and refrigerate for 30 minutes.
Make the garnish: Preheat oven to 450ºF. In a bowl, toss the bread cubes with 2 tablespoons of the olive oil. Spread the bread on a baking sheet and bake on the middle rack until golden brown, about 7 minutes. Set the croutons aside to cool.
When you are ready to serve, either dice or slice the cucumber into ribbons with a vegetable peeler. Stir the gazpacho. Put a few croutons, cherry tomato halves, and cucumber pieces in each bowl and pour the gazpacho over them. Drizzle with the remaining 2 tablespoons of olive oil, spring with salt, and serve.
Makes 6 to 8 servings.
Information
Category

Other, Soups/Stews

Cuisine

Spanish/Portuguese