Judging a Cooking Competition
Judging a Culinary Competition: It's Not as Easy as You Think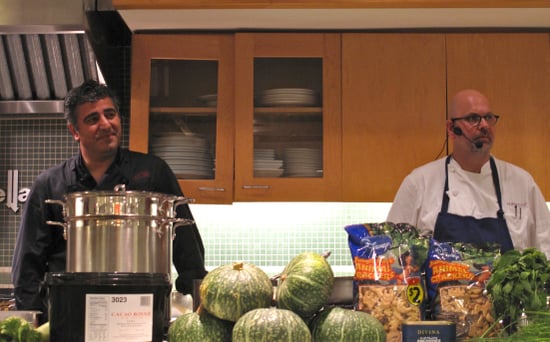 I've always envied the chairman and all the judges on Iron Chef America. After all, who doesn't want to sit down to live entertainment and not one, but two, incredible dinners made by star chefs?
Naturally, when I was recently approached to judge the Macy's Mystery Basket Battle in San Francisco, I couldn't say no. The event featured two local celebrity chefs, Staffan Terje from Perbacco and Hoss Zaré from Zaré at Fly Trap, facing off in a 45-minute battle to create at least one dish that incorporated the following six ingredients: kabocha, mint, fennel, cocoa powder, anchovies, and animal crackers.
The event wouldn't have been complete without a live audience of about 50 and a judging panel (which included myself, Masterchef finalist Alejandra Schrader, blogger Carolyn Jung of Food Gal, and SF City Dish founder Kevin Blum). But judging a competition wasn't anything like I thought it would be. Read more for some surprising postcompetition observations.
It's super interactive. As a judge, you really have to bring your A-game; host Rachelle Boucher asked us to introduce ourselves and share our thoughts on every phase of the competition as it was happening. You've got to sell yourself and bring a high level of energy.
It's really, really hot up there. Not only are you behind stage-like lights, but you're also right next to the range, the oven, and every other kitchen appliance. You might be up there smiling, but you're also sweating buckets the entire time!
Scoring is hard! In most chef competitions, judges are asked to quantify attributes that are qualitative and subjective, like "creativity" and "presentation." But what defines something like creativity? Is it creative integration of ingredients or use of out-of-the-box ingredients? Because these marks are hard to define, they're also difficult to assess.
The chefs are so much more skilled than you could imagine. Each dish was plated beautifully and could've easily appeared on any four-star San Francisco restaurant menu. One chef even managed to make two dishes — and this was on top of answering questions, telling stories, and racing against the clock at the same time. Food Gal put it best when she said that both efforts were stunning in execution.
It's hard not to wonder what's on everyone's mind. Sure, you're there as a culinary authority, but it's hard not to wonder what everyone else — the other judges, the host, the chefs, and the members of the audience — is thinking. Do they see your opinions as credible and spot-on? You'll never know. And you definitely don't have an idea of who the winner is until it's announced.
Of course, judging a culinary battle isn't exactly rough — I'd do it again in a heartbeat! — but there's certainly more to it than I thought. What do you think of chef-versus-chef cooking competitions?