Juice Bar Cocktails
Trendspotting: Juice Bar Cocktails
Remember last year's big bottled-juice trend? Well, it appears to be moving beyond juice bars and into cocktail bars. At an increasing number of venues across the country, health junkies and boozehounds have a place to convene and enjoy their gin with fresh-pressed ginger.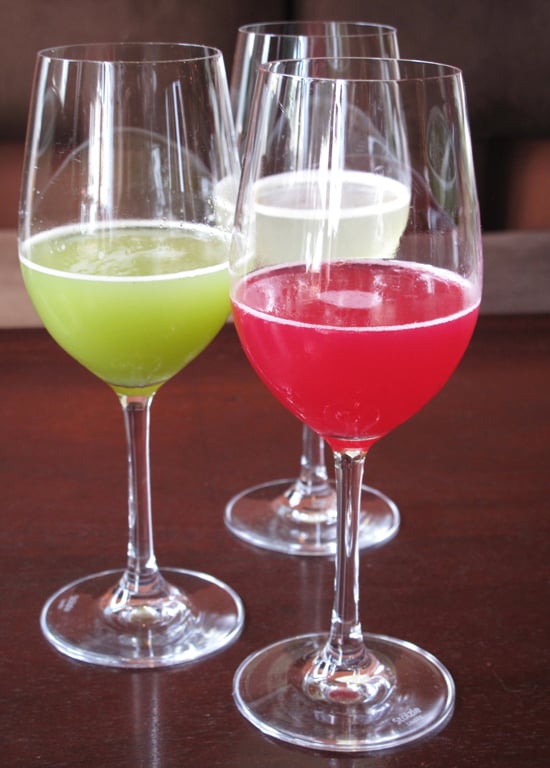 At Soaked in Manhattan's Mondrian SoHo, guests can lounge on the rooftop with "orchard to bar" cocktails, such as the 100 Mile Margarita, made with apple, pear, pineapple, and wheatgrass juice. LA's Parisian-themed cocktail lounge Pour Vous offers a new take on carrot juice with pear eau de vie, and Verveine Velay Jaune.
We had a chance to sample the trend here in San Francisco at Nectar Wine Lounge, which has recently launched a juice-centric brunch with Thrive juicery. In lieu of mimosas and Bellinis, customers can choose between Day at the Spa (apple, cucumber, fennel, and mint), Pink Pearl (strawberry, pineapple, pear, mint), and True Blood (red beets and navel orange), all with Baron de Seillac sparkling wine. "It's a fun way to offer the benefits of fresh-pressed juices and the already well-known benefits of wine consumption," owner Chris Potter told us.
What do you think of the trend? Could you see yourself getting behind, say, a kale margarita anytime soon?