Juicy Lucy Burger
From Nicole Iizuka, POPSUGAR Food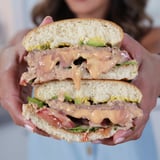 Ingredients
1 1/2 pounds ground beef (10% fat content), chilled
1 teaspoon worcestershire sauce
8 slices American cheese
1 1/2 teaspoons salt
1/2 teaspoons garlic powder
1/4 teaspoon black pepper
2 tablespoons vegetable oil
Burger fixings:
4 hamburger buns
1 1/2 tablespoons ketchup
1 1/2 tablespoons mayonnaise
1/2 tablespoon mustard
2 lettuce leaves
4 tomato slices
1 avocado, sliced
8 pickle slices
Directions
Start with very chilled ground beef. Place meat in a large bowl and mix in worcestershire sauce until just combined. Divide the meat into 8 equal portions, and using your hands, form into very thin, 1/4-inch patties that are about 5 inches in diameter.
Fold American cheese into quarters to make a short stack. Repeat with the remaining cheese. Then take a burger patty and place 2 pieces of folded cheese into the center of the patty. Lay a second patty on top and press down on the edges to seal the burger well. You might even fold the edges over just a bit to make sure the seam is closed. Repeat with remaining burgers.
After the patties are formed, season liberally with salt, garlic powder, and pepper. Place patties in the refrigerator while your skillet or grill pan heats up.
Bring a skillet with vegetable oil to medium-high heat, and place burger patties on the skillet. Cook for 3-4 minutes or until the bottom is browned and crisp, being careful to not press down on the burger patty. Use a spatula to carefully flip the burgers and then cover the skillet with a lid. Cook for an additional 3-4 minutes or until the outside is well browned. Remove from the skillet.
Assemble the burgers with ketchup, mayonnaise, a little mustard, lettuce, tomato, avocado, and pickles. Serve immediately.
Information
Category

Main Dishes

Cuisine

North American

Yield

4 servings

Total Time

29 minutes, 59 seconds