Julia Child's Crepe Recipe
Sweeten Your Day With Julia Child's Crêpes Fines Sucrées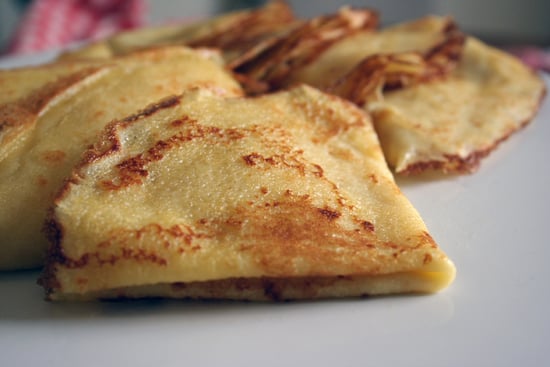 Any American can finagle a batch of pancakes in the morning, but crepes, the French equivalent of pancakes, are regarded highly because making them requires good technique and a lot of practice. However, don't be discouraged. You too can produce paper-thin, lacy, semicrisp crepes, and Julia Child's recipe for dessert crepes is a great way to become acclimated to crepe-making.
Julia Child's batter for dessert crepes is shockingly easy — just measure out the ingredients and whirl them around in a blender. The tricky part is the actual cooking. Luckily there is a video of Julia cooking crepes for the faint of heart. Notice the crepes should be spotted brown with a smooth consistency.
If your pan is too hot, the crepes will bubble as they cook and become craterlike, as pictured on the left. They are still edible (and delicious!), but lower the heat slightly so the rest of the crepes will be smooth, as pictured on the right.
Crêpes suzette is one of Julia's most notable preparations of dessert crepes, but the sauce is pretty heavy and the dessert crepes themselves are already saturated in butter. For a lighter, fresher topping to complement the buttery crepes, try marinating strawberries (or another fruit) in orange liqueur and granulated sugar. The orange liqueur adds an indescribable depth and richness to the berries without weighing down their fruity, ripe flavor. It's about time you swallow any trepidation, pull out that nonstick pan, and start making Julia's crepes now.
Ingredients
For crepes:
3/4 cup milk
3/4 cup cold water
3 egg yolks
1 tablespoon granulated sugar
3 tablespoons orange liqueur
1 cup all-purpose flour
5 tablespoons butter, melted
Clarified butter, for cooking
Powdered sugar, for serving
For strawberries:
3 cups strawberries, quartered
3 teaspoons orange liqueur, or more to taste
Granulated sugar, to taste
Directions
To make the crepe batter: Place all ingredients in a blender. Cover and blend on high for one minute, or until all ingredients are thoroughly mixed. If the flour sticks to sides, scrape it down with a spatula, and blend again for three seconds more. Cover the mixture and refrigerate for two hours or up to overnight.
To make the macerated strawberries: In a large bowl, season chopped strawberries with orange liqueur and granulated sugar, to taste. Let strawberries marinate for at least one hour before serving.
To make the crepes: Preheat a 6-1/2- to 7-inch nonstick or iron skillet over medium high heat. Before adding batter, check to make sure the pan is hot enough by flicking a little water inside the pan. If the water sizzles and evaporates quickly, then brush the pan lightly with clarified butter, and let the butter heat until it just begins to smoke. Remove pan from the flame with the left hand and use the right hand to pour 1/4 cup of batter into the middle of the pan. Quickly tilt the pan down and around in a circle so the batter evenly coats the entire bottom of the pan. Return pan to flame and cook for 45 to 80 seconds, or until edges of crepe are golden brown and when the pan is jerked back and forth, the crepe shakes freely. Lift the edge of the crepe with a spatula and check for a crispy, lightly browned crust. Use the spatula to lift the crepe up and hold the edges of the crepe with your fingertips to gently ease it onto the other side. Cook on the other side for about 15 to 30 seconds more, just until it's barely spotted brown. Slide the cooked crepe onto a cooling rack and let cool before stacking them on a plate. Grease the skillet again, heat to smoking, and proceed with remaining batter.
To serve the crepes: Fold the crepes in half and half again to create wedge-looking triangles. Serve two or three folded crepes on a small dish. Top with 1/2 cup marinated strawberries and generously dust with powdered sugar.
Makes about 10 to 12 crepes.
Information
Category

Desserts

Cuisine

French