Julia Child Gratineed Mussels Recipe
Don't Fear the Butter in Moules à la Provençal
In honor of Julia Child's birthday — la grande dame turns 100 tomorrow! — we're cooking up a bunch of the recipes with which she staked her claim to fame.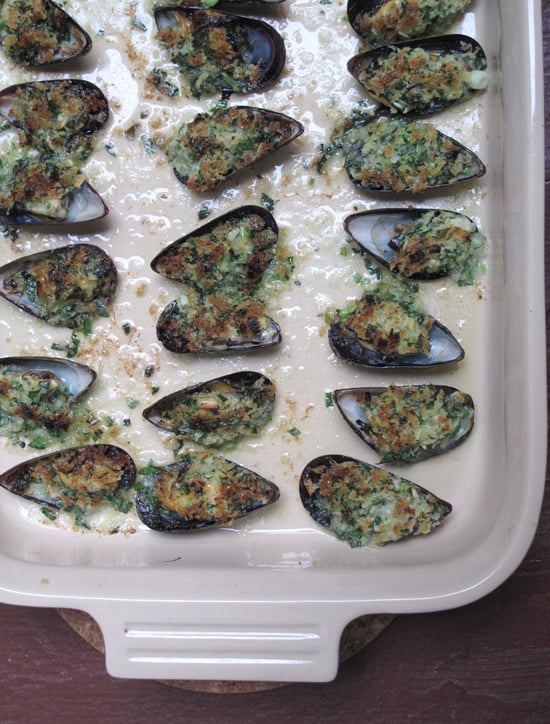 Perhaps one of the recipes Julia's best known for is her moules à la marinière, but flipping through Mastering the Art of French Cooking, I spotted another mussels recipe that deserves equal acknowledgement: JC's moules à la Provençal.
The first step to making this recipe is to split open the mussels: one can shuck them raw, but I prefer to steam them gently, then save the broth to add a saline flavor to my next seafood dish.
From there, the bivalves are stuffed with butter, breadcrumbs, butter, garlic, onions, and more butter, then put under the broiler. Mere minutes later, they emerge rust-brown and bubbling on the half shell, ready to be consumed immediately.
Raise a glass mussel to Julia when you make this gratinéed mussels recipe.
Ingredients
48 extra large mussels, scrubbed and soaked*
6 ounces (1 1/2 sticks) softened butter
3 tablespoons finely minced shallots or green onions
1 to 3 cloves mashed garlic, depending on your love of garlic
1/4 cup parsley, minced
1/2 cup breadcrumbs
Salt and pepper, to taste
Directions
Crack open the mussels: either open the raw mussels with a knife or steam the mussels open by adding them to a pot with 1/2 inch simmering water until they open, about three to five minutes.
When the mussels are open, discard the empty shell halves. Arrange the remaining half shells holding the mussels in a shallow baking and serving dish or individual fireproof dishes.
Beat the butter in the mixing bowl until it is light and creamy. Beat in the rest of the ingredients and taste for seasoning. Spread a bit of the mixture over each mussel.
About two or three minutes before serving, run the mussels under a very hot broiler under the butter is bubbling the shells and the crumbs have browned lightly. Serve immediately.
Serves four to six as a first course.
Notes:
*Discard any mussels that are not firmly closed or feel lighter or heavier in weight than the rest. Scrub each mussel with a rough brush under running water until it's very clean, then use a small knife to scrape off the tuft of hairs, or beard, which protrudes from between the closed shell halves. Set the mussels in a basin of fresh water for an hour so they will disgorge their sand and lose a bit of their saltiness. Lift the mussels out of the water into a colander, wash and drain them again, and they are ready to cook.
Be sure that the mussels are carefully washed and soaked so that no sand gets mixed with the crumbs.
Make ahead: these may be prepared ahead of time up until the last step. After opening the mussels, cover them with waxed paper and refrigerate.
Information
Category

Seafood, Appetizers

Cuisine

French