Julia Child Roast Chicken
Julia Child's Method For Roast Chicken, Crisped to Perfection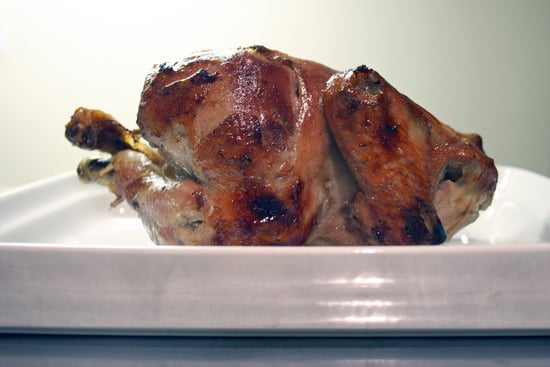 My mother and I are always bickering about the best way to prepare roast chicken, and when she's decided she's grown tired of fighting, she'll simply say, "But this is how Julia does it." Those swift words silence me, and, ultimately, whatever Julia's method is, it always wins. It made me think, what is it about Julia Child's recipes that reign supreme?
It may sound blasphemous, but we YumSugar editors have agreed that at times, Julia's recipes can be confusing, difficult to follow, and emotional. The pressure is majorly on to successfully replicate each of her recipes — and do them justice. One missed step or accidental mishap sends a flood of panicky hormones into my bloodstream. And then, I take a deep breath and remember that Julia took risks, made mistakes, and definitely dropped things, but she persevered.
Julia's recipes reign supreme because they are about learning through experience and, most importantly, maintaining the integrity of traditional French cuisine. So I go through the motions (and emotions) while attempting Julia's roast chicken. Thanks be to Julia, I use my "courage of conviction" to persevere.
Julia's method involves flipping the chicken, so it cooks on its sides. This browns more surface area of the chicken, but the true caramelization occurs by continuously basting the chicken in an oil and butter mixture. The end result is an charming, crisp chicken that looks like it's been pulled off of a rotisserie.

My mother admits, the slippery, hot chicken can be difficult to handle and the perfectly caramelized skin is easily ripped. To avoid this, use a large spatula to lift the chicken from the pan very carefully, then ease the chicken onto its side with a pair of tongs.

Rips, slips, and mini setbacks aside, the finished bird is breathtaking. "While it does not require years of training to produce a juicy, brown, buttery, crisp-skinned, heavenly bird, it does entail such a greed for perfection that one is under compulsion to hover over the bird, listen to it, above all see that it is continually basted, and that it is done just to the proper turn," Julia writes in the original recipe intro. Indeed, above all else, set an alarm for every 10 minutes and baste that bird devotedly. Learn how to make roast chicken.
Ingredients
1 3-pound whole chicken
3/4 teaspoon salt, divided
5 tablespoons butter, softened to room temperature, divided
1 carrot, sliced
1 onion, sliced
1 tablespoon olive oil
1/2 tablespoon shallot or green onion, minced
1 cup chicken stock or broth
Directions
Preheat oven to 425°F. Sprinkle inside of chicken with 1/4 teaspoon salt and smear in 1 tablespoon butter. Truss the chicken. Dry it thoroughly with paper towels, and rub the skin with 1 tablespoon butter. Place chicken, breast side up, in a roasting pan. Strew carrot and onion around it, and set it on a middle rack of the preheated oven. Meanwhile, in a small sauce pan, melt 2 tablespoons butter and 1 tablespoon olive oil to use for basting.
Allow chicken to brown lightly for 5 minutes. Turn it on its left side, basting it with the butter and oil mixture, and allow it to brown for 5 minutes. Turn it on its right side, baste it, and allow to it to brown for 5 minutes. Reduce oven to 350°F. Leave chicken on its right side, and baste every 8 to 10 minutes, using the fat in the roasting pan when butter-and-oil mixture is empty. Halfway through estimated roasting time (when the right side of chicken is golden brown, about 40 minutes), sprinkle chicken with 1/4 teaspoon salt then turn it on its left side. Continue roasting and basting for another 20-30 minutes, until left side is golden brown. Then, sprinkle chicken with 1/4 teaspoon salt and turn the chicken, breast side up. Continue basting and cook for another 10-20 minutes or until chicken has an internal temperature of 165°F. When done, cut and discard trussing strings, and allow chicken to rest on a hot platter for 5 to 10 minutes.
Remove 2 tablespoons of fat from the pan, and discard. Then, strain the cooked vegetables and pan juices through a chinois. In a small sauce pan, combine strained pan juices and minced shallot (or green onion), and cook over low flame for 1 minute. Add stock, and boil rapidly over high heat, scraping and discarding any white foam, until liquid reduces to 1/2 cup. Season with salt and pepper. Turn off flame, and just before serving, swirl in 1 to 2 tablespoons of butter into the pan sauce. Pour a spoonful of sauce over the chicken, then ladle the remaining sauce in a gravy boat for the table.
Serves 4.
Information
Category

Poultry, Main Dishes

Cuisine

French