Julia Child's Steamed Mussels Recipe
Julia Child's Moules à la Marinière Will Make You a Shellfish Lover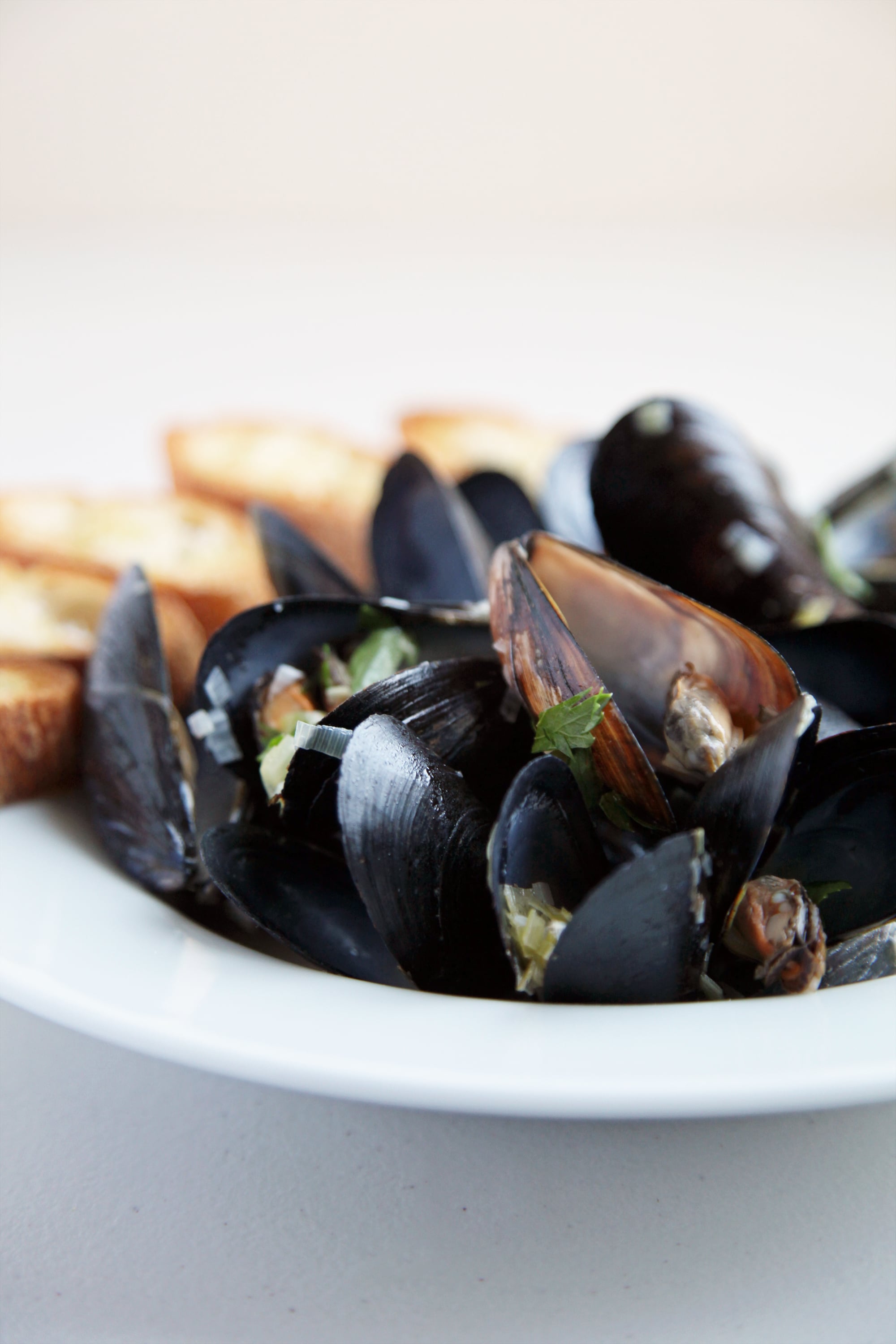 Up until relatively recently I was deathly afraid of anything and everything shellfish. My irrational reasoning led to years of missed opportunities to dine on the sweet and briny flesh of everything from lobster to, you guessed it, mussels. That said, since I changed my tune (buttery herb-flecked roast crab was my entreé into the shellfish-lovers club), I've been making up for lost time.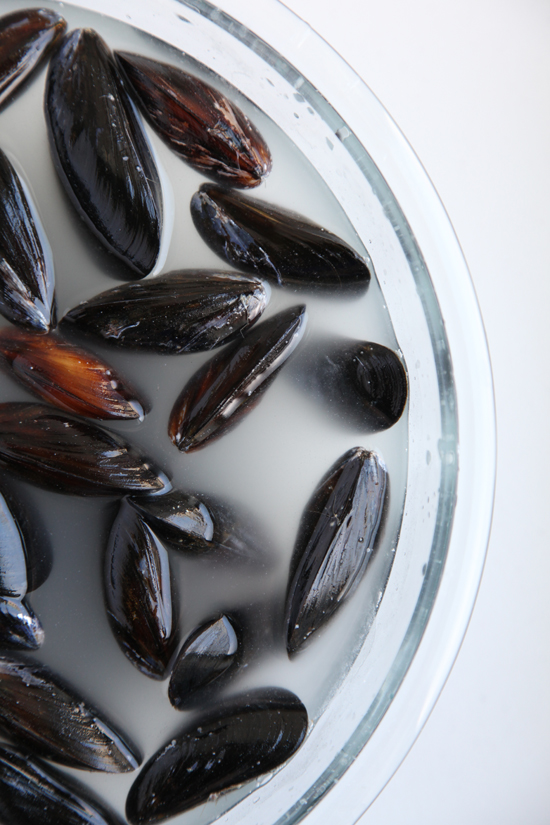 I'm now a sucker for all things bivalve and crustacean but had yet to try my hand at shellfish cookery at home. It seemed only fitting to follow Julia Child's guidelines for moules à la marinière on my first at-home shellfish adventure; her gentle but firm recipe guidance didn't fail to deliver.
Since these fruits de la mer have been so polarizing for me, I'm curious to know your feelings on shellfish. Do you love 'em or leave 'em?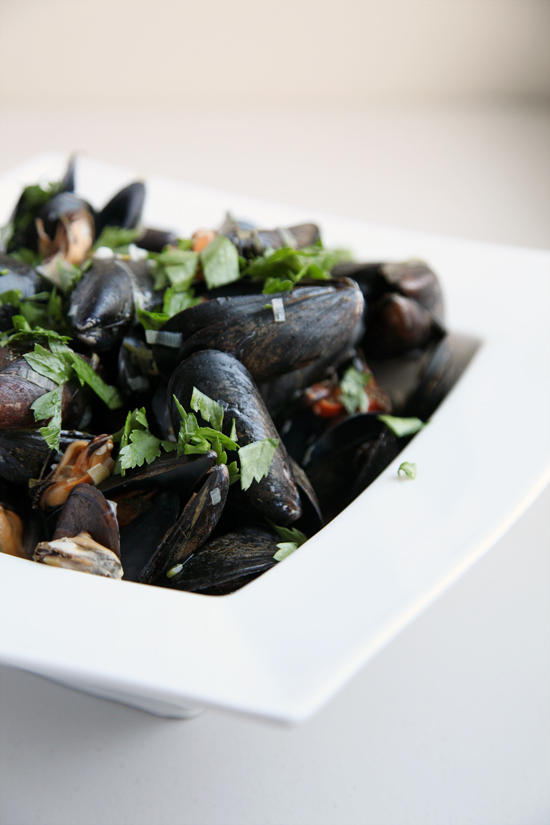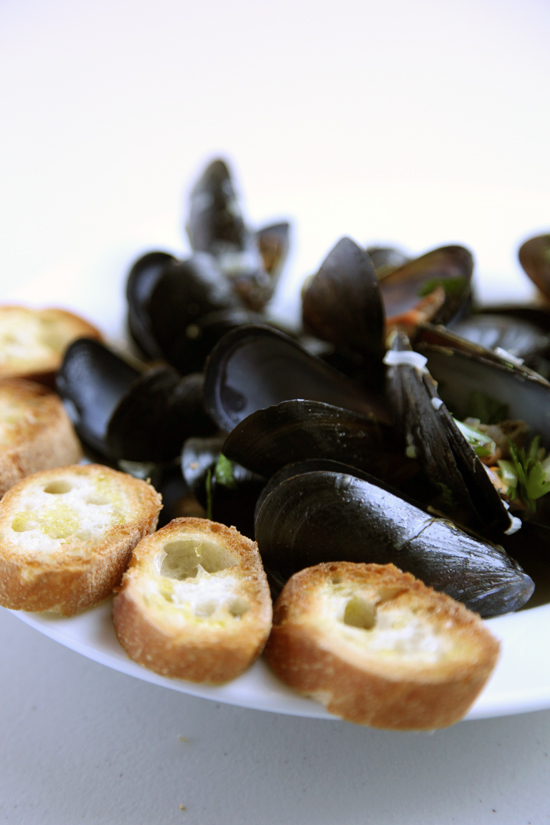 Notes
Discard any mussels whose shells are cracked or open when raw (this indicates that they're likely dead, a serious no-no when cooking shellfish). Likewise, discard any mussels that don't open after steaming.
Ingredients
1/4 cup all-purpose flour
3 quarts (about 3 pounds) mussels, scrubbed and debearded
1 cup dry white wine, such as Sauvignon Blanc or Pinot Grigio
1/4 cup minced scallions, shallots, or leeks
4 parsley sprigs, plus 1/4 cup roughly chopped parsley for garnish
1/2 of a bay leaf
1/2 tsp roughly chopped fresh thyme
1/8 tsp freshly ground black pepper
3 tablespoons unsalted butter
1 baguette, in 1/2-inch slices, drizzled with olive oil and toasted


Directions
Whisk together the flour and 4 cups of water in a large mixing bowl. Add the cleaned mussels to the flour-water mixture, topping off with water as needed to cover the mussels. Allow the mussels at least half an hour of soaking time in order to ensure that they disgorge any sand and grit.
Bring the wine, minced onion, parsley sprigs, bay leaf, thyme, pepper, and butter to a simmer in a large (6+ quarts) stockpot over high heat.
Meanwhile, drain the mussels from their flour and water liquid, and rinse once more.
Add the clean mussels to the stockpot, top with the lid and shake vigorously from time to time, in order to ensure that the mussels cook evenly. Continue with this for 5 minutes, or until the majority of the mussel shells have opened (this is your indication that they're cooked through).
Serve the mussels in shallow soup/pasta bowls, and ladle over some of their briny broth on top. Garnish with minced parsley, and serve alongside the toasted baguette.
.
Information
Category

Main Dishes, Shellfish

Cuisine

French

Yield

Serves 3-4