July Fourth Recipe For Cheese-Stuffed Hot Dogs with Spicy Onions
Sunday BBQ: Cheese-Stuffed Hot Dogs with Spicy Onions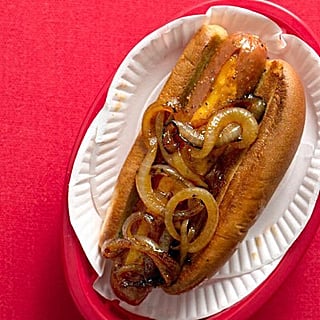 Happy Fourth of July! Hopefully, you're celebrating your freedom with a day spent outdoors amongst family and friends. Make food a central part of the celebration, but don't get so tied up at the grill that you're away from the conversation. Select a barbecue favorite like beef franks that are a treat yet also quick to prepare — then make the dish explode with flavor by stuffing the dogs with cheddar and then topping them with chipotle-marinated onions. Get the party started when you snag the recipe.


Cheese-Stuffed Hot Dogs with Spicy Onions
Ingredients
4 franks
2 tablespoons grill seasoning
2 deli slices sharp cheddar cheese, cut into 1/2-inch strips
2 tablespoons extra-virgin olive oil
2 small onions, sliced 1/4 inch thick
2 tablespoons brown sugar
1 teaspoon finely chopped chipotle chile in adobo sauce, plus 1 teaspoon adobo sauce
Salt
2 tablespoons butter, melted
4 hot dog buns
Directions
Preheat the broiler. Make a slit lengthwise down each frank, being careful not to cut all the way through. Place the grill seasoning and franks in a plastic bag; shake to coat. Place the franks on a baking sheet and stuff each with 2 or 3 strips of cheese.
In a large skillet, heat the olive oil over medium-low heat. Add the onions and cook until softened and golden, 12 to 15 minutes. Add the brown sugar, chipotle, adobo sauce and 1/2 teaspoon salt and cook, stirring, until the sugar dissolves, about 2 minutes.
Butter the insides of the buns and place face up on the baking sheet with the franks. Broil until the cheese melts and the buns are toasted, 3 to 5 minutes. Assemble the hot dogs and top with the caramelized onions.
Serves 4.
Information
Category

Main Dishes, Beef

Cuisine

North American