 A salad of roasted beets with crumbly goat cheese and a delicious vinaigrette is a pretty common dish on menus these days. While I've had my fair share of this scrumptious salad, when browsing Dinner at my Place, I was intrigued by Tyler Florence's variation because he uses raw beets.
In their raw state, beets are difficult to peel; even on a mandoline, they were a little cumbersome to thinly slice, but the rest of salad is simple and worth the effort. The earthy crunchy beets, creamy tangy goat cheese, crisp bitter greens, toasted walnuts and blood orange vinaigrette combine to create a delightfully complex dish that is perfect in terms of flavor and texture. To get started on this surprising, Spring salad
.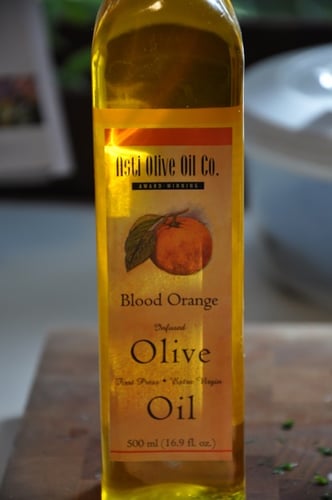 Shaved Beet Salad With Balsamic Vinaigrette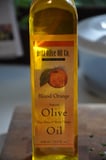 Ingredients
Dressing
1 shallot, finely diced
1/4 cup finely chopped fresh Italian flat-leaf parsley
1 tablespoon Dijon mustard
2 tablespoons balsamic vinegar
1 tablespoon sugar
3/4 cup blood orange-infused olive oil
Salad
1 large golden beet
1 bunch bitter greens*
1/2 head radicchio*
1/2 bunch mizuna*
1 bunch kale*
1/2 cup walnuts
1/4 pound crumbled goat cheese
Directions
Toast walnuts in an 350°F oven for 8 to 10 minutes. Occasionally shake to ensure they don't burn.
Make the balsamic vinaigrette by combining shallot, parsley, mustard, vinegar and sugar in a large bowl. While whisking constantly, slowly add the olive oil. Once all the oil has been added and the vinaigrette is emulsified, season it with salt and pepper.
Peel the beet using a sharp knife or a vegetable peeler.
Using a sharp knife or mandoline, shave it into thin slices.
Wash and tear the salad greens into bite-size pieces. Toss greens with shaved beets and walnuts in a large salad bowl. Dress with balsamic vinaigrette. Top with crumbled goat cheese.
Serves 6-8.
*Substitute your favorite salad greens, if all are not available.
Information
Category

Vegetables, Salads