Justin Warner Wins Food Network Star
Justin Warner: A Rebel Chef With an Attitude to Match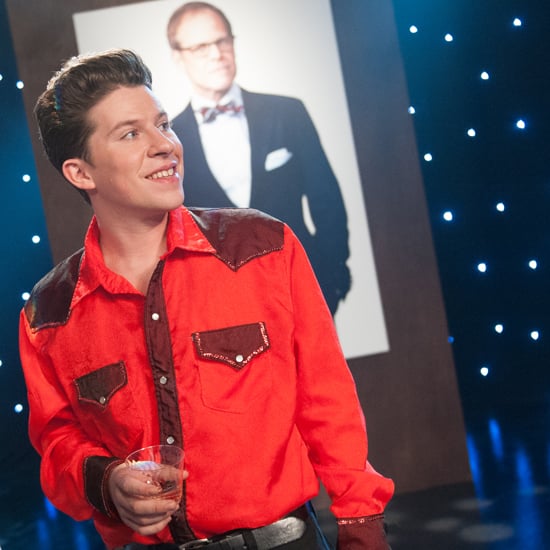 Last night, Justin Warner became the next Food Network Star. This 27-year-old Brooklynite, chef, and owner of Do or Dine restaurant has the attention of the young and old alike for his offbeat personality and even odder culinary concoctions.
His new show, Rebel With a Culinary Cause, is slated to air this Fall on the Food Network. Prepare for funky fusion dishes like Nippon nachos, a pork wonton dumpling smothered in melted chipotle gouda and a traditional Mexican salsa. He's remixing old-school favorites, too: for the pilot episode, Justin revamped a classic Caesar salad, whipping up a grilled chicken Caesar salad with an aspic Caesar dressing that dissolves into the hot, charred lettuce hearts.
I spoke to the rebel himself only hours after the finale of Food Network Star aired. The quirky chef discussed his love-me-or-leave-me attitude, the mentors in his life, and an illegal ingredient he can't wait to get his hands on. Take a look at what he had to say.
YumSugar: What was going through your head when the curtain revealed your portrait, signaling you were the next Food Network star?
Justin Warner: I never really thought that I would be in this position at all. I thought, "Oh my, is this a dream? This is real, right? Oh, it is real. All right. Snap back to it, kid." There is this Eminem song and the lyrics go, "Snap back to reality. Oh there goes gravity." That is kind of the way I felt for a second.
YS: Even though you were praised by the mentors on the show and have a large social media following, you said you didn't think you would be accepted by America. How come?
JW: Because I'm different. I didn't think the weird little brother vote would work.
YS: What was the greatest challenge for you on the show?
JW: The show and being on it for 11 weeks. That was intense. It was a lot of hard work. I told Alton Brown, "Man, that's a hell of a job." It's a heck of a way about getting something done. It was worth it, obviously. The toughest thing was just doing it.
YS: What was the best piece of advice that your mentor, Alton Brown, gave you?
JW: It was not necessarily advice, and this never aired, but it was on an off-side moment. He said, "Look, man, I'd be afraid to snip any of your wires," implying that . . . people are either going to love me or hate me.
YS: What was the biggest risk that you took during the season?
JW: It sounds vague, but doing the show. I could stand to make a lot of enemies. I could stand to make a lot of people upset by the things I do, the food that I'm trying to push, and the style of living that I'm trying to push. It's not an easy thing to wrap your head around.
YS: What's the timeline for your show?
JW: Whenever they tell me to shoot, I'll shoot. It's all being planned. Between me running a restaurant and the Food Network running the network, it's one hell of a calendar.
YS: What has been your most "rebellious" dish?
JW: The stroganoff damier. It looks like rare beef, but it's a mushroom gel. Nobody does that. You know what I mean? You'd have to pay 80 bucks for a dish like that in New York. You have to have a little bit of guts to make it and more guts to actually eat it.
YS: What's more important to you: creating a delicious dish or concocting an unusual presentation?
JW: You can stick your hand in a bowl of cookie batter and it's delicious, but I think unusual is more important. I think it's about the dialogue you have between your plate and your brain. One of the greatest compliments someone has ever given me was a single diner who said, "Your food is the most fun I've ever had." That's what I'm here to do: to make you talk to yourself via food.
YS: Your recipes tend to have a long list of ingredients and are time intensive. For your show, do you plan to scale back to make them more approachable for the lay person?
JW: I don't know why I would necessarily do that. If the goal is to get people amped about it, that's part of the challenge. If you look at my recipes and you say that's a challenge, then you should see what we do in restaurants. I've got a recipe for xacuti: it's like the Indian version of mole in that it's seed-based. It has at least 40 ingredients in it, and it tastes great. Why wouldn't I [scale back]? I think scaling things back is a cop-out.
YS: What ingredient are you obsessed with right now?
JW: That's tough. That's like asking me to pick one of my children. Let's call it: ambergris [whale bile]. It's illegal in the United States. First thing is you freak out that you have ambergris. The second thing that you do is you treat it like you do truffles. It's like the truffle of the sea. You put it against very simple backdrops [like] risotto, rice, or bread. What would I do with it? I have no idea. I have to get a hold of it first. Then gears will really start to turn.
(©2012, Television Food Network, G.P. All Rights Reserved)