Kansas City Barbecue Sauce Recipe
Make Your Own Barbecue Sauce
Every Summer I like to experiment with different homemade barbecue sauces. While I've made sauces that require hours to simmer and others that call for finely minced vegetables, I've never come across a barbecue sauce as easy and delicious as this one. The recipe says it's a Kansas City barbecue sauce, but being as I'm a California girl, I really know nothing about the regional differences of barbecue sauces (if you do, please share with me below!).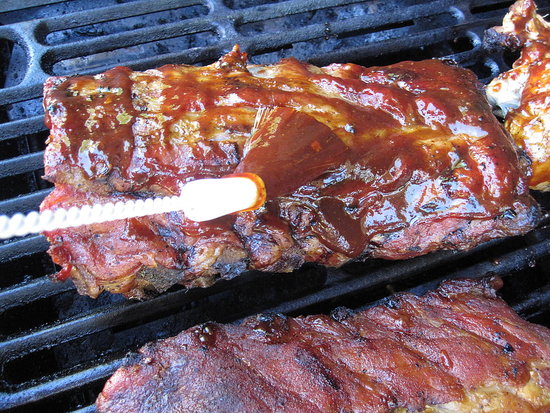 What I do know is this sauce is really easy to make and absolutely scrumptious slathered on ribs and chicken. There's no chopping or heating involved, all you have to do is measure a bunch of spices into a bowl, stir in the liquids, and you've got homemade barbecue sauce. I love the addition of curry powder, it provides a subtle exotic-ness to the sauce. Want to learn how it's prepared? Just keep reading.
Kansas City Barbecue Sauce
From Saveur
Ingredients
1⁄4 tsp. ground allspice
1⁄4 tsp. ground cinnamon
1⁄4 tsp. ground mace
1⁄4 tsp. freshly ground black pepper
1⁄2 tsp. curry powder
1⁄2 tsp. chili powder
1⁄2 tsp. paprika
1⁄4 cup white vinegar
1⁄2 tsp. hot sauce, such as Tabasco
1 cup ketchup
1⁄3 cup dark molasses
Directions
Sift together allspice, cinnamon, mace, pepper, curry powder, chili powder, and paprika into a bowl.
Stir in vinegar, then add hot sauce, ketchup, and dark molasses and mix until very well blended. Serve warm or at room temperature. Sauce may be stored in an airtight container in refrigerator for 2–3 weeks or in freezer for up to 6 months.
Makes about 2 cups.
Information
Category

Condiments/Sauces, Marinades/Rubs

Cuisine

North American