Kate Krader at the Food and Wine Classic
A Day in the Life of Kate Krader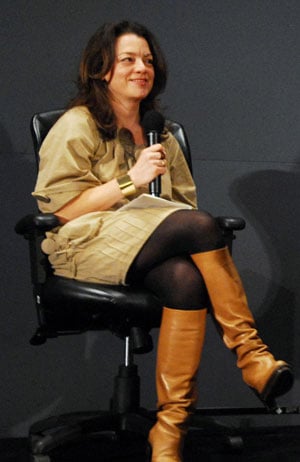 Welcome to our new series A Day in the Life, where we examine at what it's like to be a professional in the food industry. In honor of the Food & Wine Classic in Aspen, we look at a day in the life of Kate Krader. As the magazine's restaurant editor, Kate is a girl about town and friend to many chefs. Here's what she did yesterday, Thursday, June 15.
Disclaimer: This is not a normal day in my life. This is the first day of Aspen.
6:30 a.m.: I woke up at 6:30, which is earlier than normal for me at my house in Brooklyn. There was a car waiting to take me to the Westchester airport. I don't normally go to this airport.
7:30 a.m.: I was in the car for one hour, which is too much time to be in the car. Last year for the Classic, we got two private planes that flew direct from New York to Aspen with a bunch of chefs. This year it was the same, so I boarded a Bombardier Global with Michael Symon, Jonathan Waxman, Daniel Boulud, Paul Grieco (he's a sommelier at Terroir), Michael White, Danny Meyer, Marcus Samuelsson, and a bunch more people.
10:30 a.m.: Wheels were up at 10:30, and the plane was super deluxe. This is going to sound obnoxious, but it's true: the Krug wasn't chilled, so we had to wait for it to chill. They had these great vegetables and dip and an awesome caprese salad with burrata. The tomatoes were really ripe. You can do whatever you want on a private plane. You can watch TV or hang in the bedroom. The cool thing about the Bombardier plane is that they can change the pressure in the cabin so that the food actually tastes really good. When you fly in a normal plane, the cabin pressure changes the way things taste; food tastes duller, bad. But in a private plane, they can change it so it tastes good.
12:30 p.m.: We landed in Aspen at 12:30 and even though we took off after the second plane, we beat it to Aspen — that's how smooth our ride was. I knew there was going to be some private cars to pick up the chefs, but not for me, so I thought I was going to take a cab. Then when we were walking out of the airport, there was this grand Rolls-Royce waiting for us! They're a new presence at the Classic, so Marcus, Jonathan, and I drive around Aspen in the new Rolls-Royce Shadow. We were looking for anyone who we knew; we wanted them to see us driving around in this gorgeous car.
2:00 p.m.: I went to lunch at Ajax Tavern with my friends Robert and Jordana, who are wine people. Danny Meyer was there, too, and we had this fantastic seafood platter with clams and crab legs. We drank rosé, and I ate about a million french fries that were covered in truffle salt and cheese.
4:00 p.m.: I had a meeting with Jim Meehan at the lobby of the Limelight Lounge. We had to talk about the seminar we are doing on the new Food & Wine cocktail book.
5:00 p.m.: I ran back to the Aspen Square condominiums, where I'm staying and changed.
6:00 p.m.: I met some friends, and we went to this really cool party. It felt like a dorm party, because it was in a hotel room at the St. Regis. It was hosted by this Italian winemaker, and the party was really fun.
7:00 p.m.: I went to the welcome reception at the Hotel Jerome. It was too crowded, but great. I met this cool group of Michelin-starred chefs from Hong Kong who are going to be in the tents. Then I hung out with Andrew Zimmern and his wife, who are both great.
7:30 p.m.: We went to the wines of Spain party at this house on the highway. I met up with some of the Best New Chefs, and we went over to where José Andrés was roasting whole pigs. We stood there, right near the pigs, and pulled the meat off them as he cut them. It was really good, eating the crispy pig.
9:00 p.m.: I went to the magnum party, which is this crazy party where everyone has magnums of wine. It's funny, you see a regular bottle of wine and you think it's a mini, because all the people are walking around with magnums. They were playing music, it was cheesy to cool. And it was the sort of party where people started dancing but not in a good way. They had a raw bar. The shrimp and sliders were really good. We stayed there for a while.
11:00 p.m.: A big group of us went to the Little Nell for a late dinner. I had a really good crab salad.
12:00 a.m.: I went home at midnight. Someone asked me to go to Jimmy's, the bar where a lot of tequila drinking happens, but I thought it was best to go home. Supposedly, Daniel Boulud was there, but I was in bed by 12:30 or 1 a.m.