Katie Lee's Holiday Entertaining Tips and Appetizer Recipes
Katie Lee Shares Her Secrets For Throwing a Simply Chic Holiday Cocktail Party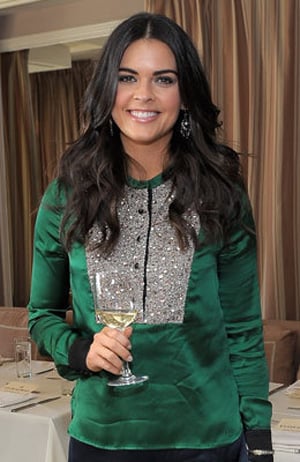 The holidays are always a little hectic, and there's definitely some added pressure for those of us who volunteer to play host for a Hanukkah celebration, Christmas dinner, or New Year's Eve party.
We caught up with entertaining expert Katie Lee as she toasted her role as Clos du Bois wine ambassador in LA, and couldn't resist asking for some advice on how to make throwing a successful seasonal soiree less stressful. Over a wine pairing lunch at the Sunset Tower Hotel, we snagged her tips on everything from whipping up the perfect deviled egg to her favorite unexpected spot for finding party decor — as well as her food trend predictions for 2012. Katie also dished on some of her favorite easy-to-make recipes for cocktails and appetizers and gave us ideas on how to simplify and save money when playing host for friends and family.
YumSugar: You've got so many great recipes for appetizers. What will you be serving at your house this season?
Katie Lee: On Christmas Eve, I'm cooking a really big dinner. I have 20 people coming, so for the appetizers I'm doing more assembly, because I'm focusing on the main course. So, I like to do multiple crostinis. I get a baguette, slice it up, toast it. One that is a big hit is gorgonzola cheese with a dollop of fig jam. It's excellent. I also will do some fresh ricotta. I pick it up at an Italian specialty store, [and add] really good extra-virgin olive oil and a sprinkle of sea salt. And then, I'll do just a store-bought olive tapenade on a crostini . . . The one hors d'oeuvre that I always, always make at every party are my deviled eggs. It's not a party at my house without deviled eggs!
YS: Do you have any tricks to making the perfect deviled egg?
KL: The secret to a good deviled egg is to not do too much to it. I just put mayonnaise and a little bit of yellow mustard in mine. Not Dijon. Yellow mustard — the cheap kind — and then I dress it up with the garnishes. So that's where I get more creative, and for Christmas Eve or for New Year's, I'll do a luxury deviled egg. I get some caviar, and it's a good way serve a bunch of ingredients and stretch it. One small container of caviar can go on 20 deviled eggs, and then you save money on caviar and [don't have to] spend hundreds and hundreds of dollars.
Keep reading to check out the rest of Katie Lee's holiday entertaining tips.
YS: I loved the cocktail that you did at the Oscar party last year. What would be a good holiday-party cocktail that's simple, but also has a little bit of flair?
KL: Add some pomegranate seeds or something that looks really festive — slice kiwi and freeze it [to use as ice]. And I would also have a nonalcoholic option. Sparkling water with a little pomegranate juice, or sliced frozen kiwi and pomegranate seeds, is delicious. And if somebody wants to add booze to it, they can, so it can go either way.
YS: What do you think are going to be the big food trends in 2012? Do you have any predictions?
KL: People are leaning toward eating healthier. I think that's the food trend for a while. We all wanted our comfort food. We wanted that heavy mac and cheese . . . [but] also people are more interested in vegetarian eating. Any time I tweet anything about cooking vegan or vegetarian food, I get a lot of responses. That's more of a trend these days.
YS: Are there any food trends from this year that you're excited to see go away?
KL: There's nothing I can think of that I can't wait to see go away. We had some really good food trends this year. The food trucks I love. I love having very casual food like that. That was my favorite food trend of 2011, and it will be interesting to see how that evolves, too.
YS: Throwing a New Year's Eve party can be a lot of pressure! What are your tips to make sure the party goes off without a hitch?
KL: It's New Year's Eve. There's a lot of build up to it, so there's also a let-down factor. If I'm the one doing the New Year's Eve party, I tell my friends to dress up and that makes it instantly special. And you can serve more casual food but do it in an elegant way. I don't know how many times I've made meatloaf or fried chicken and served it on china; it really makes an elegant night. So make it fancy with table décor and bring out your best china. If you don't have china, go to a yard sale or a dollar store and get cool things that mix and match, tell everybody to dress up, and light a scented candle, and that will make it look like a really nice night. And get some of those little party favors that have the streamers and all that!