Kendall-Jackson Wine Educator Talks Visual Food and Wine Pairings
How to Pair Food and Wine With Your Eyes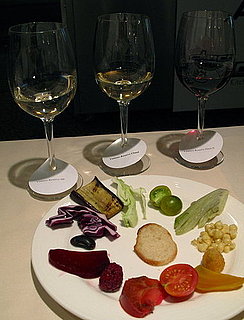 Ever thought to pair food and wine based on what you can see? Probably not. When it comes to senses utilized in pairing wine with food, sight isn't the first to come to mind. But at one of this week's SF Chefs seminars, wine expert Gilian Handelman stressed the importance of visual cues when combining food and drink.
Through a simple exercise, Handelman — who is the director of wine education for Kendall-Jackson — demonstrated how produce and wines with similar pigmentation make ideal partners for one another. To see what that exercise was — you can recreate it at home as a learning tool yourself! — read more.
Each attendee had three glasses of wine — a Sauvignon Blanc, a Chardonnay, and a Pinot Noir — and a "produce wheel" with various-colored fruits and vegetables. As I tasted my way around the clock that was my plate, it was clear that Handelman had a valid point. Green zebra tomatoes and cabbage possessed the "high" notes and acidity to pair best with a zippy varietal like Sauvignon Blanc, while the sweet-mellow flavor of golden corn and raspberries seemed naturally designed to accommodate a rich, creamy Chardonnay. And deeply hued eggplant and runner beans? Perfect with a Pinot Noir.
Perhaps the most dramatic lesson came when Gilian asked participants to try fruits and vegetables that are available in both light and dark varieties: white raspberries and red raspberries, green cabbage and red cabbage, green tomatoes and red tomatoes, golden beets and red beets. In this drill, each produce item undoubtedly paired best with a wine in the same color spectrum.
If you've never taken the time to explore visual cues when pairing food and wine, I highly recommend you give it some thought. Have you ever tried something like this at home?