Kiley Holliday's Tips on How to Brew the Perfect Cup of Tea
Tips For Brewing the Best Ever Cup of Tea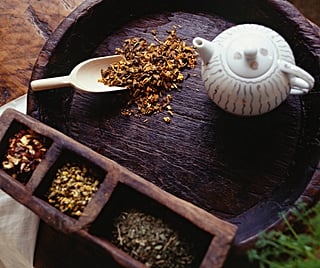 I'm an avid coffee drinker, and have always preferred it to tea. But perhaps I can be converted. According to tea expert Kiley Holliday, she used to feel the same way about coffee, drinking it constantly throughout the morning. Yet today, she's the youngest female certified tea master in the United States, and owns l'Age de Thé, a New York City-based fine tea company specializing in custom, hand-blended teas.
I asked Kiley to offer some pointers for an uneducated tea drinker such as myself. As she shared her suggestions, I realized I've been making tea all wrong —  which means that now I need to give it another chance! Are you brewing your tea the right way? Find out when you read more.


Choose a tea with characteristics that suit you. It may sound obvious, but tailor your tea choices to suit your taste buds. If you're used to drinking coffee, for instance, try a stronger black tea with a similar richness, such as Irish breakfast. Begin enjoying it with the same milk and sweetener, that you typically include in coffee.
Skip the tea bags. Teabags contain the lowest grade tea. Kiley offered a telling story: "When you visit a tea processing plant, as they're sorting a tea, it goes through a series of different trays. The largest leaves hold the most flavor; the tea in tea bags is the dust they sweep up off the floor."
Don't oversteep your tea. Teas become bitter or develop an astringent quality if they've been steeped for too long, Holliday says. Never steep green or white tea past three minutes, or black tea past five. While most herbal teas can continue to brew for up to 10 minutes, chamomile tea will become bitter in taste after about eight minutes.
Make sure you add the right amount of tea. Don't add too little tea, because then it'll taste watery. Add a heaping teaspoon of tea for every six ounces of water.
Pay attention to temperature. When it comes to green tea, "the secret to brewing it very well is temperature," she says. While boiling water is required when brewing black tea, Holliday recommends a different technique with green tea: Boil the water, turn off the kettle, and let it sit for about five minutes. When it's reached 180ºF, mix the water with the leaves.
What tips can you offer for drinking tea?