Killer Apps: Prosciutto-Wrapped Asparagus Growing up, I hated asparagus. I thought it tasted weird, had an odd texture and was downright lousy. These days my opinion has completely changed and I think it's one of the tastiest veggies out there. Naturally it took a piece of cured meat to change all of that. That's right, prosciutto-wrapped asparagus was how I took the plunge from asparagus hater, to asparagus lover. And while I've learned to love asparagus in most any form, there's nothing quite as tasty as when it's wrapped in pork.
The traditional recipe for prosciutto-wrapped asparagus calls for you to blanch them first. However our pals at Slashfood claim you can skip the blanching step and roast them directly. Not wanting to dirty another pan, I decided to take their advice. It came out perfectly, and made for a wonderfully quick, delicious appetizer. If you want to see how to do it — with or without blanching — just
.
Roasting without Blanching Method
To create the asparagus seen here, I cut the woody ends of the asparagus off. Next I cut pieces of prosciutto with kitchen shears (to create smaller pieces easily), and then wrapped them around the stems. I roasted them directly on a pan in a 400 degree oven for about 10 minutes. I used skinny asparagus stalks, for larger stalks, you'll want to up the cooking time.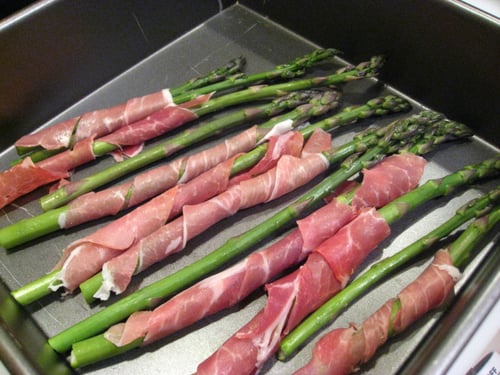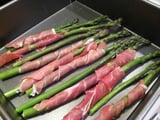 Ingredients
20 stalks of asparagus
4 thin slices of prosciutto, fat removed
4 teaspoons unsalted butter
freshly ground pepper
1/2 cup freshly grated Reggiano Parmesan
1 lemon, quartered
Directions
Cut off tough ends of asparagus. Cover asparagus with water in a skillet; bring to a boil and cook until tender but still firm, 3–4 minutes. Drain well.
Divide asparagus into 4 bundles of 3 stalks each. Wrap prosciutto slice around center of bundle. Place the bundles into oven-proof dish; dot with butter; season with pepper, and sprinkle with Parmesan cheese. Place in the oven to brown the cheese, 4–5 minutes.
Serve with lemon wedge.
Information
Category

Appetizers, Finger Foods

Cuisine

North American