King Cake Recipe
Celebrate With a Colorful King Cake
Making a king cake has never been one of my baking priorities, considering I've got little to no knowledge of Mardi Gras in general. But something came over me last week and I decided I wanted to take on this challenge. And a challenge it certainly was: I did a fair amount of research, finding an overwhelming number of different recipes and methods, then settled on a recipe from the king of New Orleans cooking himself.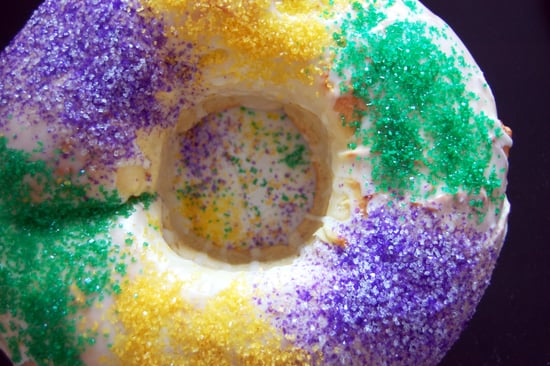 King cake represents the three kings who brought gifts to the baby Jesus, and traditionally, whoever finds the dried bean or plastic baby in their piece of cake has to bring the next one or throw the next party. The three colors (purple, yellow, and green) are also significant. Purple signifies justice, while green represents faith and yellow, power.

Lots of yeast, colored sprinkles or frosting, and a dried bean or a plastic baby were all involved in Emeril's recipe, as was a serious hunt for candied citron (I imagine any kind of candied citrus would work well in its place). The recipe begins with forming the dough, then letting it rise for almost two hours, followed by kneading, shaping, and another rise.
The resulting cake was dense and chewy, much like the texture of a doughnut with a hint of lemon in the background. The sweetness comes from the icing and the sugar crystals, which I found to be a nice way to balance out the cake.

For more king cake photos and the recipe, keep reading.

While I really did enjoy this version of king cake, I think some kind of a filling might be nice. It wouldn't be too challenging to sprinkle a cinnamon, sugar, and butter mixture over the dough during the shaping phase, then fold it over and shape it into a ring from there.

Emeril's recipe calls for nutmeg, lemon zest, and candied citron as the main flavor components. Get creative with yours: use orange zest rather than lemon, or raisins instead of candied citron. The beauty of king cake is that there are so many varieties out there, so you can feel free to adjust yours to your preferences.

I didn't have a coffee or shortening can to use around which to shape the cake, so I turned to my trusty mason jar obsession, and the glass jar worked like a charm.

Would you give this colorful cake a try?
Notes
Instead of a coffee can to shape the cake around, a buttered mason jar can be used.
Ingredients
For the cake:
1/2 cup warm water (105°-115°F)
2 packages dry yeast
2 teaspoons sugar
4-5 cups flour
1/2 cup sugar
2 teaspoons salt
1 teaspoon ground nutmeg
1 teaspoon grated lemon rind
1/2 cup warm milk (105°-115°F)
1/2 cup melted unsalted butter, cooled
5 egg yolks
1/2 cup candied citron, finely chopped
1 pecan half, uncooked dried bean, or king cake baby
For the glaze:
2 cups sifted powdered sugar
2 tablespoons lemon juice
2 tablespoons water
Purple, green, and yellow sugar crystals
Directions
Preheat the oven 350°F.
Combine the warm water, yeast, and 2 teaspoons sugar in a small bowl. Mix well and set aside to a warm place for about 10 minutes.
Combine the 4 cups of flour, 1/2 cup sugar, salt, nutmeg, lemon rind, and add warm milk, melted butter, egg yolks, and yeast mixture. Beat until smooth.
Turn dough out on a lightly floured surface. Knead in enough remaining flour until the dough is no longer sticky. Continue kneading until the dough is smooth and elastic (about 10 minutes).
Place the dough in a well-greased bowl. Turn once so greased surface is on top.
Cover the dough, and let rise in a warm place until doubled in bulk (about 1 1/2 hours). Punch the dough down, and place on a lightly floured surface.
Sprinkle with the citron, and knead until the citron is evenly distributed.
Shape the dough into a cylinder, about 30 inches long. Place the cylinder on a buttered baking sheet. Shape into a ring, pinching ends together to seal.
Place a well-greased 2-pound coffee can or shortening can in the center of the ring to maintain shape during baking. Press the king cake baby, pecan half, or dried bean into the ring from the bottom so that it is completely hidden by the dough. Cover the ring with a towel, and let rise in a warm place until doubled in bulk, about 45 minutes.
Bake for 30 minutes, or until golden brown. Remove the coffee can immediately. Allow the cake to cool.
For the glaze: Combine the ingredients and beat until smooth.
To assemble, drizzle cake with the glaze.
Sprinkle with sugar crystals, alternating colors.
Cut into the cake, and hope you do not get the baby.
Information
Category

Desserts, Cake

Cuisine

North American