0
Kitchen Experiments: Apple-Date Muffincakes
This weekend I was expecting houseguests and wanted to offer them a homemade treat. I figured a nice breakfast muffincake would be a good option, as it would work for breakfast, dessert, or an afternoon snack. However, I didn't know what kind I wanted to make, so I headed to my kitchen without a recipe and scoped out the ingredients. I was treading dangerously — no recipe — but I ended up with deliciously, moist apple-date muffincakes. If you'd like to see what I did, as well as what went wrong — so wrong that the cakes themselves were laughing at me and I've got the photo to prove it! —
.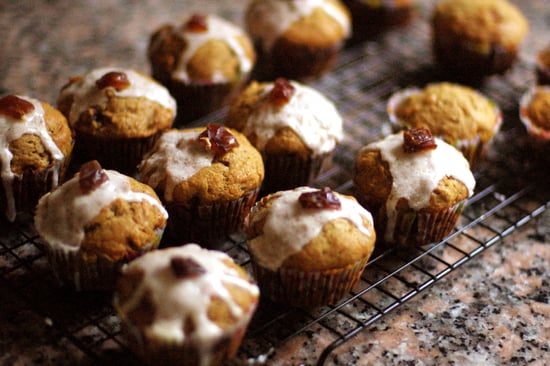 Apple-Date Muffincakes
A Kitchen Experiment by YumSugar
1 cup chopped and pitted dates [I had 14 Medjool dates]
1 apple, peeled, cored, and grated
1/2 cup apple cider
2 1/2 cups flour
1 1/2 tsp. baking soda
1/4 tsp. salt
1/2 tsp. cinnamon
1 stick of butter
1/2 cup brown sugar
1/4 cup organic white sugar
4 oz. cinnamon applesauce
2 eggs
frosting:
1 stick of butter
2 cups powdered sugar
1-2 tbsp. milk
Preheat oven to 350°F. Line 18 muffin tins with cupcake liners.
In a medium bowl place dates and apple. Pour apple juice on top. Let soak for 15-30 minutes [I soaked it until I was ready to use them.]
In another medium bowl, sift flour, baking soda, salt, and cinnamon together. Set aside.
In a mixer, cream butter and sugars together.
Add applesauce, mix thoroughly.
Add eggs, one at a time. Making sure each one is fully incorporated.
Gently add in 1/3 of flour mixture. When incorporated add in 1/3 of date mixture (including liquid). Mix completely. Continue until all flour and date mixture is incorporated.
Completely fill each cupcake liner with batter. You should be able to fill 18 liners.
Bake for about 20 minutes, or until toothpick inserted comes out clean. You want the tops to be slightly golden brown.
While baking, make frosting (aka glaze). For the glaze, mix all ingredients in a large bowl until creamy. Adjust sugar amount as necessary. Do not try to frost your cakes before they are cooled. This will result in a glaze. Mine were glazed, but I was actually hoping for a dollop of frosting. As you can see, one is laughing at me for not waiting.