Earlier this week, I wanted a simple, yet hearty breakfast. I knew I had some eggs and ham, but I didn't have a lot of time. I had to get ready for work, but also wanted something yummy. That's when I remembered baked eggs. Baked eggs are great because you can pop them in the oven, get ready for work, and have a warm breakfast before you leave.
I was originally going to have a simple egg, but then thought about lining a ramekin with ham in order to make a self-contained meal. Next I decided to toss in some tomatoes sautéed in garlic.
The overall concept was a good one, I don't think you can really go wrong with a baked egg. However, my dish was a bit runny. I halved the tomatoes, but didn't really let them cook down much. This was a mistake, I should have let them cook down as they weren't seeded and the tomatoes were really watery. There was nowhere for the liquid to go, so the bottom of my creation was a bit soggy. The top, however, was great. Next time, I won't get lazy with the tomato cooking!
Baked Egg in a Ham Shell
A kitchen experiment by YumSugar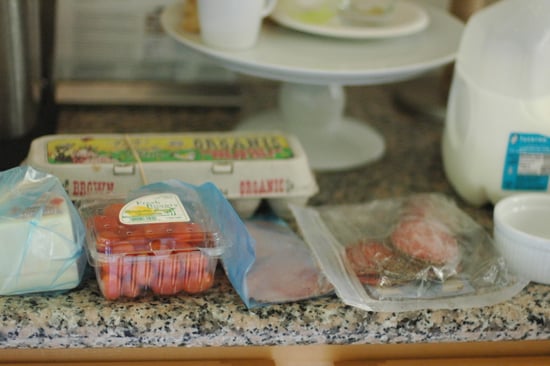 handful of plum tomatoes, halved
1 clove garlic
2 slices of ham
1 tbsp. jack cheese
splash of milk
1 egg
salt pepper
olive oil
Preheat oven to 375ºF.
Grease a small ramekin or one slot in a muffin tin. Place two pieces of ham inside the ramekin, make sure they overlap to create a sort of crust. Set aside.
In a small pan on medium heat, heat a small amount of oil until shimmering. Add garlic and sauté until fragrant.
Add tomatoes to pan, salt, and cook for a few minutes.
Spoon tomato mixture into the ham shell. Add a splash of milk and cheese.
Crack an egg on top of the mixture. Sprinkle with salt and pepper.
Place ramekin on baking sheet and place into the oven. Bake for about 20 minutes or until egg white has set.