Komforte Chockolates Ramen Noodle Chocolate Bar
Would You Eat These Unconventional Chocolate Bars?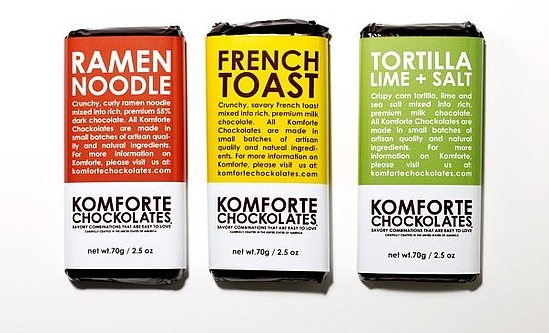 As part of my get-healthy plan, I've sworn off chocolate for the time being, but these unusual candy combinations from brand-new company Komforte Chockolates have left me pretty curious. First, there's Ramen Noodle, which combines 55 percent dark chocolate with dry, crunchy ramen noodles. Breakfast lovers can try French Toast, a milk chocolate bar with cinnamon French toast mixed in. Last but not least, there's Tortilla Lime & Salt, which is milk chocolate studded with crispy tortillas that have been flavored with a hint of lime and sea salt. Komforte's bars are the weirdest ones I've seen since William Dean's wasabi pea and crystallized ginger chocolates. Would you be daring enough to give them a bite?