Korean Chicken Wings Recipe
The Wide World of Wings: Spicy-Sweet Korean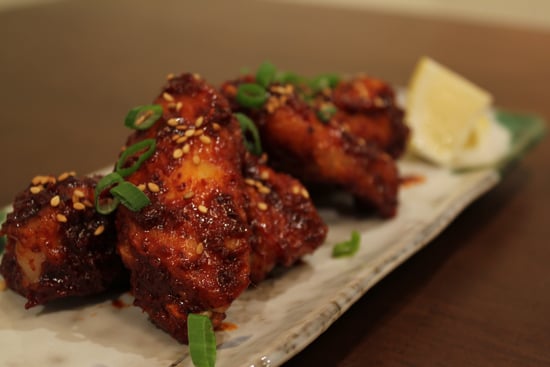 We last took you to Mexico for a bright and tangy take on one of America's favorite game-day foods, but our next culinary adventure sends us across the Pacific to South Korea for some sweet and spicy finger-licking. If you've been lucky enough to dine at the KyoChon or BonChon chicken restaurants, then you know that Koreans love fried chicken. One of the most popular varieties is yangnyeom dak, a crisp, twice-fried wing or thigh tossed in a fiery sauce that reminds me of the classic buffalo wing with an Asian twist.
Just as buffalo wings marry a zesty tang with mouth-numbing heat, Korean wings combine the acidity of rice vinegar with the peppery punch of fermented red-pepper paste and red-pepper powder (found at many Asian grocery stores). Mix in sweet honey and fragrant sesame oil, and you have a crowd-pleasing and conversation-starting app that will make your game-day get-together a hit.
For this unique take on an American classic, just read on.
Ingredients
2 pounds whole chicken wings
3 tablespoons gochujang (Korean hot-pepper paste)
2 tablespoons rice vinegar
2 tablespoons honey
1 teaspoon sesame oil
3 tablespoons gochugaru (Korean hot-pepper powder)
1 tablespoon roasted sesame seeds, plus more for garnish
Vegetable oil (for frying)
Salt and pepper, to taste
1 tablespoon flour (plus more if necessary), for dredging
1 tablespoon cornstarch (plus more if necessary), for dredging
Directions
Remove the tips of the wings and discard or save for making stock. Using kitchen shears or a knife, separate the wings at the joint. (See how to prep wings for appetizers.) Rinse wing parts under cold water, and pat dry with paper towels. Lay wings in a single layer on a wax paper-lined baking sheet, and place in the refrigerator (uncovered) for one hour.
Whisk together the red-pepper paste, rice vinegar, honey, sesame oil, red-pepper powder, and sesame seeds in a large bowl.
Heat vegetable oil in a Dutch oven over medium heat. Remove wings from refrigerator and season on all sides with salt and pepper. Place about a tablespoon each of flour and cornstarch in a large clean plastic bag,

seal

, and shake gently to combine. Working in batches, drop a few chicken wings in the bag, and toss to coat with the flour mixture. Shake off the excess before dropping each wing into the hot oil, and fry until golden brown, turning occasionally, about five to seven minutes. Replenish the flour mixture in the bag as needed.
Transfer fried wings to a wire rack placed over a rimmed baking sheet. When wings are cooled slightly but still warm, toss them in the sauce and pile them on a serving platter. Garnish with more sesame seeds and serve immediately.
Makes about 18 wing pieces.
Information
Category

Poultry, Appetizers

Cuisine

Other Asian