Korean-Style Chicken or Pork Noodle Bowls
Fast & Easy Dinner: Korean-Style Noodle Bowls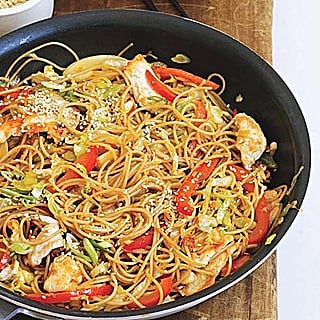 Put down the phone. Instead of takeout tonight, why not try this simple recipe for Korean-style noodle bowls? Use the meat of your choice and feel free to swap out the veggies depending on what you have on hand, letting the sweet, spicy sauce do the rest. The whole wheat spaghetti gives it a healthy edge, while the ginger, garlic, sesame oil, Sriracha, and honey pack a major flavor punch.
For the recipe, keep reading.


Korean-Style Chicken or Pork Noodle Bowls
Ingredients
Salt and pepper
1 pound whole wheat spaghetti
One 1-inch piece fresh ginger, grated
2 large cloves garlic, grated
About 1/4 cup tamari (dark soy sauce)
About 3 tablespoons honey or agave syrup (eyeball it)
2 tablespoons tomato paste
About 2 tablespoons rice wine vinegar (a couple of healthy splashes)
1 tablespoon sesame oil
1 teaspoon hot sauce, such as sriracha, plus more to pass around the table
2 tablespoons vegetable oil
1 pound skinless, boneless chicken thigh meat, chicken breast meat or thin-cut boneless pork chops, cut into thin strips
1/4 small cabbage, very thinly shredded
1/2 red bell pepper, thinly sliced or chopped
1 bunch scallions, thinly sliced on the diagonal
Toasted sesame seeds, for garnish
Directions
Bring a large pot of water to a boil, salt it, add the pasta and cook until al dente. Drain.
While the pasta is working, using a blender or food processor, combine a splash of the boiling water (before you add salt), the ginger, garlic, tamari, honey (or agave), tomato paste, vinegar, sesame oil and hot sauce until smooth.
Get all of the remaining ingredients ready for a quick stir-fry. In a large skillet, heat the vegetable oil over high heat. Add the chicken or pork and stir-fry until browned, about 3 minutes. Add the cabbage and bell pepper and stir-fry for 2 minutes, then add the scallions and ginger sauce and toss for 1 minute.
Pour over the drained noodles and top with the sesame seeds. Pass more hot sauce around the table.
Serves 4.
Information
Category

Pasta, Main Dishes

Cuisine

Other Asian