Kristen Kish's Cooking Advice
Nail Every Dish With Tips From Top Chef Kristen Kish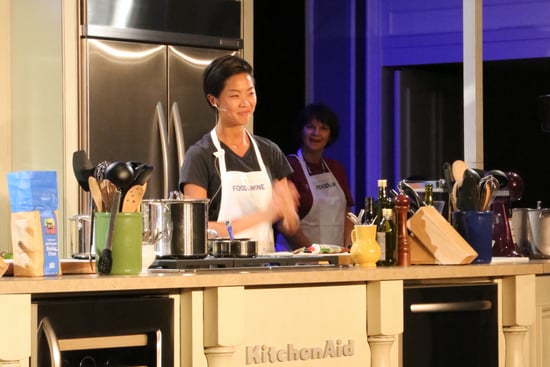 Top Chef season 10 winner Kristen Kish, chef de cuisine at Boston's Menton Restaurant, might just be the cutest badass I've ever met. She sports a cool, cropped haircut, smokes with the boys outside, has an armful of tattoos (all the fines herbes), and isn't afraid to rip the tails and claws off of live lobsters (no, seriously). But during her demo at the Food & Wine Classic in Aspen, her tough exterior went to pieces when she smiled innocently, asking the audience if she was doing OK, and repeatedly interjected "oopsies," rather than a curse word, when she fumbled in the kitchen. But it's usually the best and brightest who serve themselves the largest slice of humble pie, and such is the case with Kish. She shared some interesting, insidery tips for making tasteful masterpieces; keep reading to try them at home.
Represent all of the primary sensations of taste: The American palate tends to go toward salty or sweet foods, but according to Kish, you want all of the flavor components represented: salty, sweet, bitter, and sour.
Don't forget this secret ingredient: Kish puts sherry vinegar in everything. The most obvious applications are in salad dressing and sauces, but almost everything can benefit from a splash of sherry vinegar.
Toast your tomato paste: When making any dish that calls for tomato paste, toast the ingredient in your skillet before adding any liquids to enhance the tomato paste's flavor. Mario Batali also did this in his demo, so I knew this was sound advice.
Cook produce, but also serve it raw: Cook vegetables, then garnish the plate with dainty slivers or leaves of the same raw vegetable. For instance, Kish roasted radishes, then plated them with raw slivers of radish and radish greens. Get in the habit of doing this to add flavor, drama, enticing color, and texture to a plate.
Visualize the first bite: Kish takes a lot of care when arranging the plate to determine what your first bite will be and what flavors she wants you to pick up. Before plating a dish that you plan to serve to guests, think about where your eyes and fork will gravitate toward first.